Coffee
Coffee is known for its beneficial effects in the case of a migraine onset. It is caffeine, the main substance in this element, that is responsible for this positive effect. The ingestion of caffeine will cause a natural contraction of your blood vessels, which in turn means that the intensity of the pain is reduced. However, the coffee solution should be taken in moderation, especially for those who are not regular coffee drinkers. This solution is not always suitable; ingesting caffeine at night will have a bad impact on your sleep, so prefer to consume it in the morning.
The cold towel
It's often touted as an antiquated and almost superstitious grandmother's remedy, but it does work. The cold towel technique involves, as the name suggests, placing a cold towel (or glove) on one's forehead. To do this, ice cubes are placed on the towel before it is put down. The purpose of the cold is, like the previously mentioned caffeine, to cause the blood vessels to contract.
The massage
Massage too can show successful results in migraine, provided you know how to do it. It is also necessary to do it as soon as the first pains appear, otherwise it may not be effective. Use your hands to gently massage your forehead and temples in long, slow circular movements. You can even help yourself to some essential oils like peppermint, which you apply to the affected areas before massaging.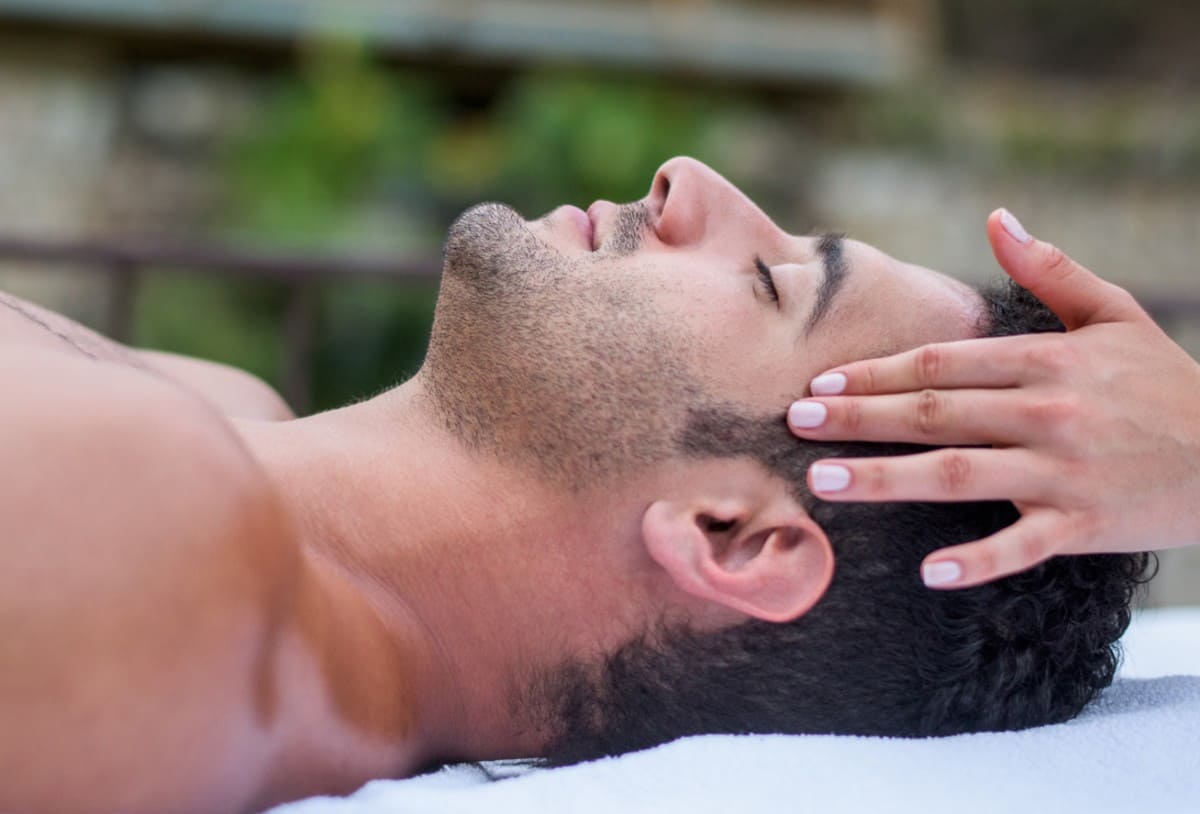 Stay away from light and sound
It's no secret that bright lights and noisy environments amplify or even cause migraines. To alleviate your pain, it is imperative to put yourself in a place that is as dark and quiet as possible. Above all, avoid spending your time in front of your computer, television or any other screen. Avoid even reading! This is an activity that requires visual effort, and therefore amplifies the pain. If possible, move to a low-temperature room.
If you can't get to a low-temperature room, move to a high-temperature room.
If you can't lock yourself in such a place, then get some fresh air and go out for a good 15 minutes or so. Also, make sure you are properly hydrated, with fresh water.
Herbal teas
Herbal teas are a very well-known and used solution in the natural treatment of migraine. And their effectiveness is proven. Still, it is necessary to use an herbal tea based on plants that act well at the desired level. For this, we recommend 2 recipes. The first is a mixture of chamomile, lime, calamint and verbena.
If you have a headache, you should use a herbal tea that is effective.
If you don't have the above ingredients or don't like their flavour, you can opt for the mixture including Roman chamomile, lavender, marjoram and the inevitable verbena. If you want something simpler, an infusion with ginger can do the trick.
The essential oils
Essential oils
The use of essential oils has been proven time and time again in people with migraines. Simply apply them to your forehead and temples, and if possible follow with a massage to make them stick. In addition to the peppermint essential oil discussed above, there are other things that can be used for migraines.
Nutmeg, basil, true lavender as well as St. John's wort can be used in essential oil forms for this purpose. You can even make a mixture of all these oils for more effectiveness.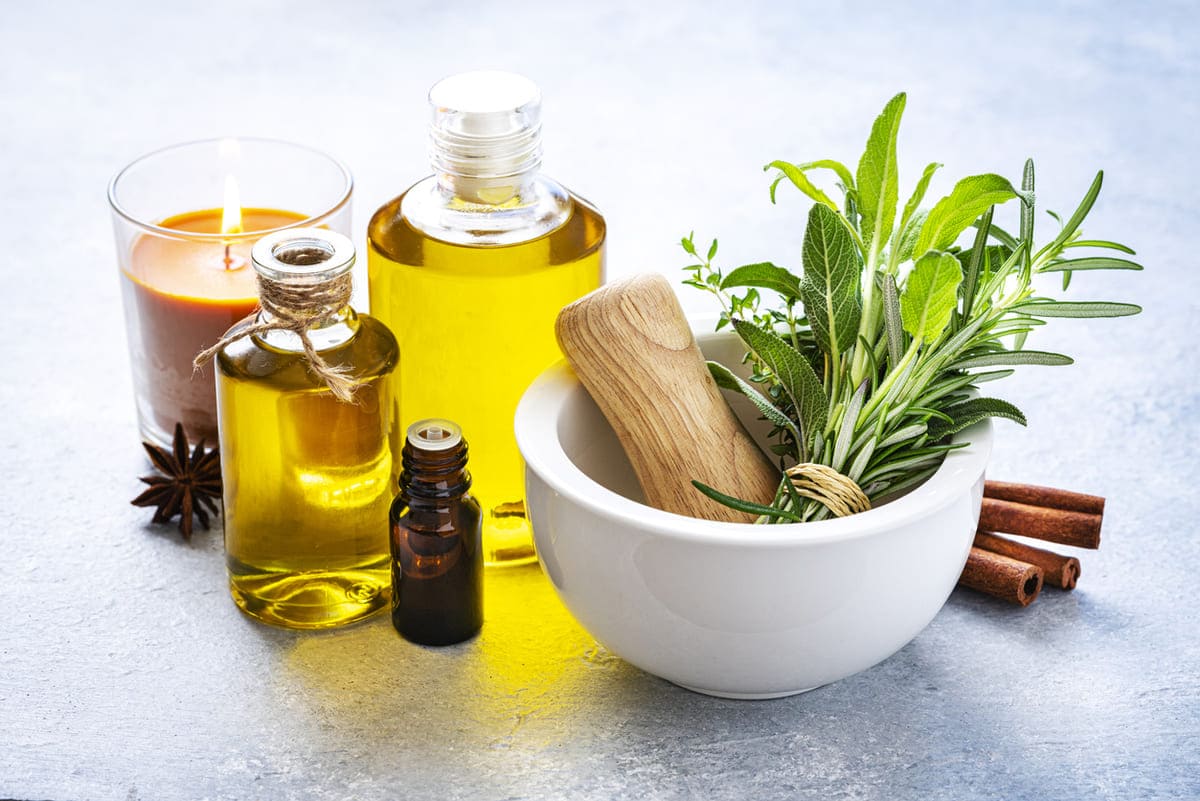 Chewing a pencil
The solution might seem incongruous and even burlesque, but that's what London hospital clinician Dr Jane Leonard tells us. At issue are the muscles around the jaw and temples, which are said to tend to relax under the action of chewing. During periods of stress, these muscles have a natural tendency to contract. This contraction would be caused by a displacement of the cartilage disc, located at the height of the ears. So try chewing on a pencil and see for yourself how effective this method is, it costs nothing.
Practicing sophrology
Many times the onset of headaches is caused by a stressful situation, although this is not always the case. In this regard, relieving stress is essential to relax your body and alleviate the extent of your headaches and to do this, sophrology is an effective technique. It is a set of methods aimed at relieving the body and mind, for example by controlling your breathing or by performing specific gestures. To practice sophrology, there is no need to be assisted by a coach. You can learn all the techniques yourself by watching videos on the subject online. You will be pleasantly surprised by the effectiveness of this technique!
Use osteopathy
Although it is a non-conventional medicine, the results shown by osteopathy on countless patients suggest an unmistakable effectiveness on certain points. Osteopathy is also effective in the treatment of migraine, for recurrent headaches that are long term. It is a completely natural method based on manipulations of the musculoskeletal system, practiced by professionals.
CBD
CBD, still unknown in France only a few years ago, has become a master in the field of natural products to fight against pain. After many controversies and heated debates about its alleged psychoactive action, cannabidiol is finally accepted as an entirely natural product that is harmless to the body. On the contrary, it does not fail to have many virtues, among which is the fact that it relieves pain generally.
CBD products legally marketed in France never contain more than 0.2% THC, the cannabinoid responsible for the psychoactive effects of cannabis. At such low levels, THC has no effect on the body, so you can rest easy on that score.
There are different ways to consume CBD. For the treatment of migraine, it is advisable to consume it in the form of oil, sublingually so that it is absorbed optimally. Remember that it is only a food supplement, and in no way a medicine. CBD is therefore not suitable for the treatment of diseases as a replacement for medication prescribed by your doctor.