What is hemp milk?
Hemp milk is a drink with multiple nutritional benefits. Lightly flavored, homemade hemp milk is generally low in sugar. This is why you can add sugar, agave syrup, honey or even a hint of vanilla to make it more gourmet.
In addition to being a tasty drink, hemp milk is a drink that is full of health benefits. The advantage is that once prepared, you can enjoy it with your cereals, in your smoothies, in your pastries and in all your recipes. You can even sip it directly in its raw state.
What are the benefits of hemp milk?
For this recipe, you will only use seeds from the hemp plant. Hemp seeds contain about 30% vegetable protein and 35% essential fatty acids such as omega-3 and omega-6.
Unlike the flowers and other parts of the cannabis plant, the seeds do not provide any psychoactive or relaxing effect. Hemp seeds are uniquely a superfood rich in nutrients that are essential to keep you healthy.
Another advantage for vegetarians or vegans, hemp seeds are very interesting because they provide a good protein intake. In addition to protein and good fats, hemp seeds are also rich in minerals.
Making hemp milk at home will only take you a few minutes and requires very few ingredients. So why not take advantage of it?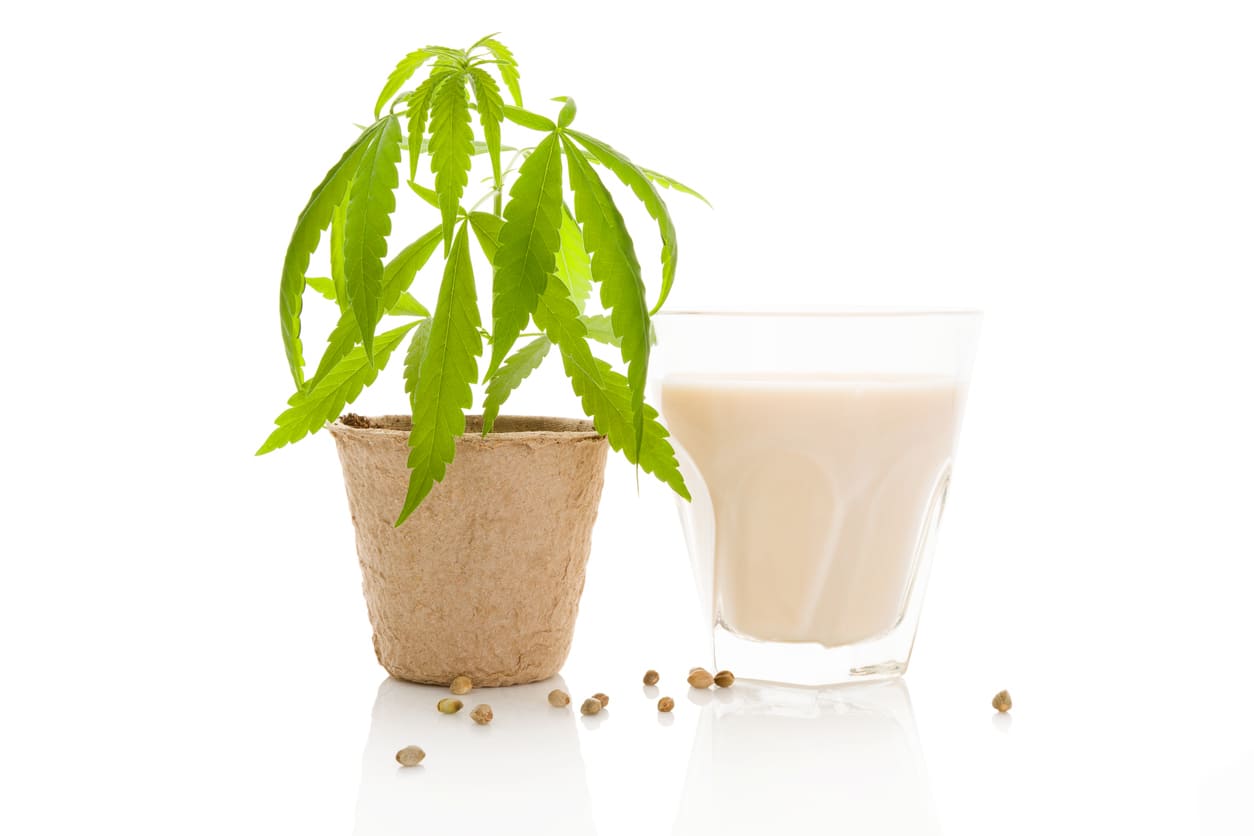 How to make hemp milk at home?
Ingredients
200 grams of hemp seeds
750 milliliters of water
The sugar of your choice (honey, agave syrup, cane sugar, etc)
1 pinch of vanilla sugar
A blender
The recipe
To start, you need to soak the hemp seeds in about 250ml for a minimum of 12 hours. The ideal is to soak your seeds overnight so that you can start the recipe the next morning.
Next, drain the water and rinse the hemp seeds well. Keep the filtered water aside for the next step.
In a blender, mix the hemp seeds with 500 ml of water for 1 minute at full power. Gradually add the 250 ml of water you have reserved. You can also add the sugar of your choice during this step.
Once blended, the mixture should be strained through a non-dairy milk bag, cheesecloth or fine cloth. Squeeze firmly for maximum juice.
Pour the resulting hemp milk into a bottle. If you haven't done it yet or you're not satisfied with the taste, you can add a pinch of vanilla sugar.
Your hemp milk is ready to drink. You can store it for up to 3 days in the refrigerator.
How to make CBD milk at home?
What is the difference between hemp milk and CBD milk?
If you like CBD (or cannabidiol), know that it is possible to decline this recipe in order to benefit from the therapeutic virtues of this cannabinoid. Rest assured, this CBD milk will not give you any psychoactive effect because it has nothing to do with THC, the molecule responsible for the euphoric effects of cannabis.
CBD is uniquely known for its relaxing, anti-stress and pain-relieving properties. This is why it seems interesting to make CBD milk at home, in order to benefit from these famous virtues in a new format that you can, once again, integrate into all your culinary preparations: hot chocolate, smoothie, porridge, milkshake, cake... Let your imagination run wild!
In summary, hemp milk made with seeds will only give you nutritional benefits, while CBD milk will give you therapeutic benefits.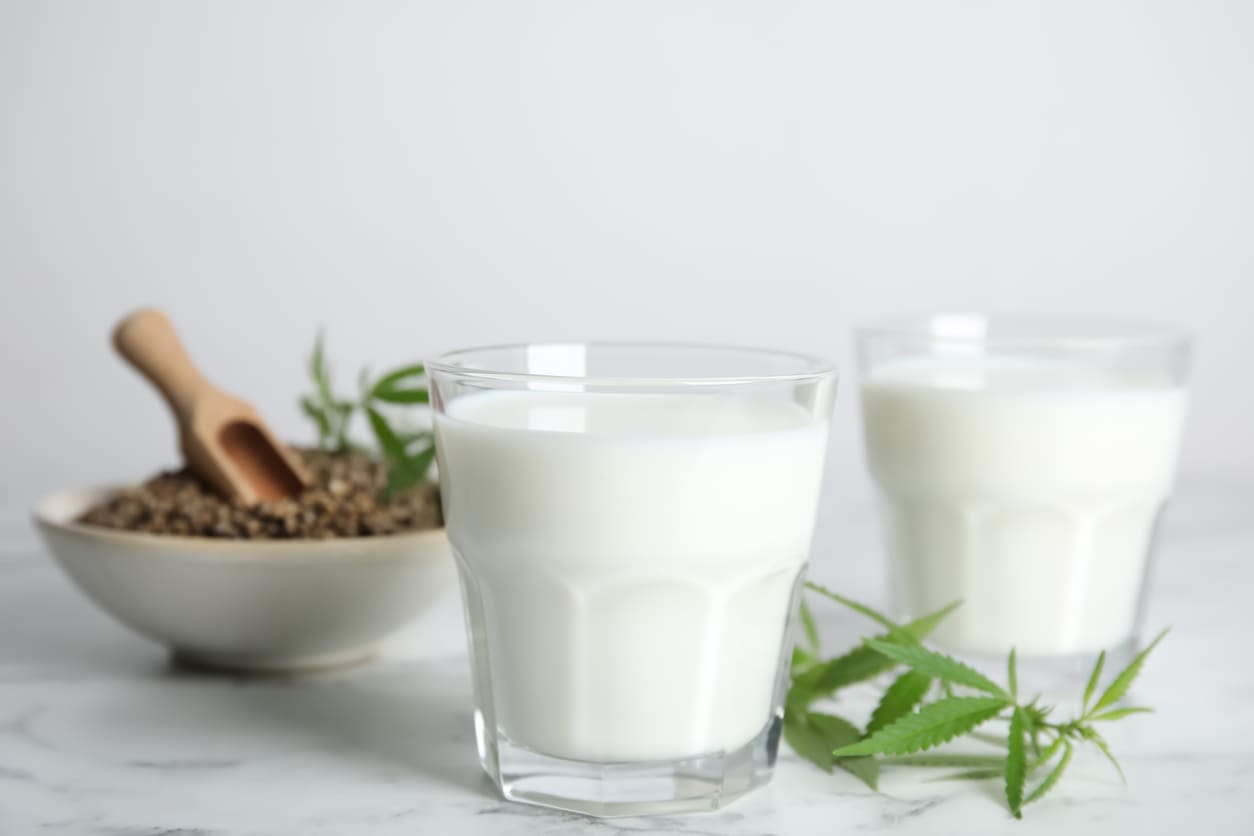 Ingredients
Animal or vegetable milk, according to your preferences
4 grams of CBD flowers or about ten drops of CBD oil
Spices of your choice: vanilla, cinnamon, nutmeg, etc.
A saucepan
The recipe
If you choose to use CBD flowers for your recipe, you must start by decarboxylating them. This step is essential to release the active ingredients of the cannabinoids and therefore to benefit from the therapeutic virtues of CBD. Crumble your CBD flowers and spread them on a baking sheet. Place in the oven and cook for about 40 minutes at 110 degrees maximum, stirring regularly. If this step is too complex for you, you can use CBD oil which does not require any specific preparation.
Heat the milk of your choice in a saucepan until boiling.
Reduce the temperature and add your CBD flowers or CBD oil.
Still on very low heat, let the CBD infuse in the milk for about 1 hour. Stir occasionally and add the spices of your choice. You can also add sugar, honey or agave syrup to make your milk even more delicious.
Your milk is ready to enjoy. You can bottle it and store it for 3 days in the refrigerator. As with hemp milk, you can consume it raw or incorporate it into your recipes.
What recipes to make with hemp milk or CBD milk?
Do you have hemp milk or CBD milk left in your fridge and you don't know what to do with it? Here are some ideas that will make your mouth water:
CBD pancakes or pancakes;
a CBD smoothie;
a CBD milkshake;
CBD porridge;
a CBD hot chocolate;
CBD ice cream;
or CBD waffles!