The cultivation of cannabis plants in aquaponics is particularly appreciated, because it allows to obtain fast, abundant and qualitative yields. All this, thanks to the presence of fish that naturally release fertilizer through their excrement. An ecological and profitable solution to produce premium quality cannabis.
The art of aquaponics is not new, but the technique is not well known to consumers, except for the more experienced hemp growers. If you are a novice grower or simply want to know more about aquaponics, how it works, its advantages and limitations, you will find all the answers to your questions in this article.
How does aquaponics work?
To begin with, you need to know that aquaponics is a hybrid farming method that consists of creating a unique ecosystem that mixes the cultivation of plants and the breeding of fish. Why combine plants and fish? Quite simply, because this natural system is self-sufficient. On the one hand, the fish droppings are a natural fertilizer for the cannabis plants. On the other hand, the roots of the plants act as a biological filter to clean the water. A win-win system that can be used both indoors and outdoors.
Basically, aquaponics is not specifically intended for hemp production. For example, some people use it to grow fruits and vegetables. So why have hemp farmers adopted this method? The main reason is that aquaponics allows for truly optimal quality cannabis plants. Grown in a healthy and natural environment, the buds are generous, fragrant and tasty.
Finally, the principle of operation is quite simple: the fish feed the plants with nutrients thanks to their excrements and the roots of the plants clean the water for the fish.
How to start your own aquaponics hemp farm?
If you already have an aquaponics system for growing fruits or vegetables or simply have an aquarium, it is quite possible to grow a few cannabis plants with the equipment you have on hand. That said, you will need to grow a legal cannabis seed that meets the current European standards. Of course, you are not allowed to grow an illegal product that contains THC (tetrahydrocannabinol). But if you are guaranteed to get a product that is only CBD-based, you can try it.
First of all, you should know that the system to be set up can be very complicated if you start from scratch, i.e. if you have no material resources and no knowledge of hemp cultivation. In any case, you will have to be patient and work meticulously to obtain a system that really works.
The first step is to get a pond or an aquarium, in which you will put the fish. In this tank, the fish will dump their excrement which will act as a natural fertilizer for the cannabis plants. Of course, you will have to check all the important parameters: the temperature of the water according to the chosen fish, the temperature of the room if you cultivate in indoor, the chosen varieties of cannabis, etc.
You will have to provide biological filters to facilitate the transformation of fish excrement into nutrients for the plants. But also devices to control the pH of the water, the chlorine level, the oxygen level, the ammonia level, etc. In short, many small details that are all very important. This is why aquaponics is a technique reserved for growers with a minimum of experience.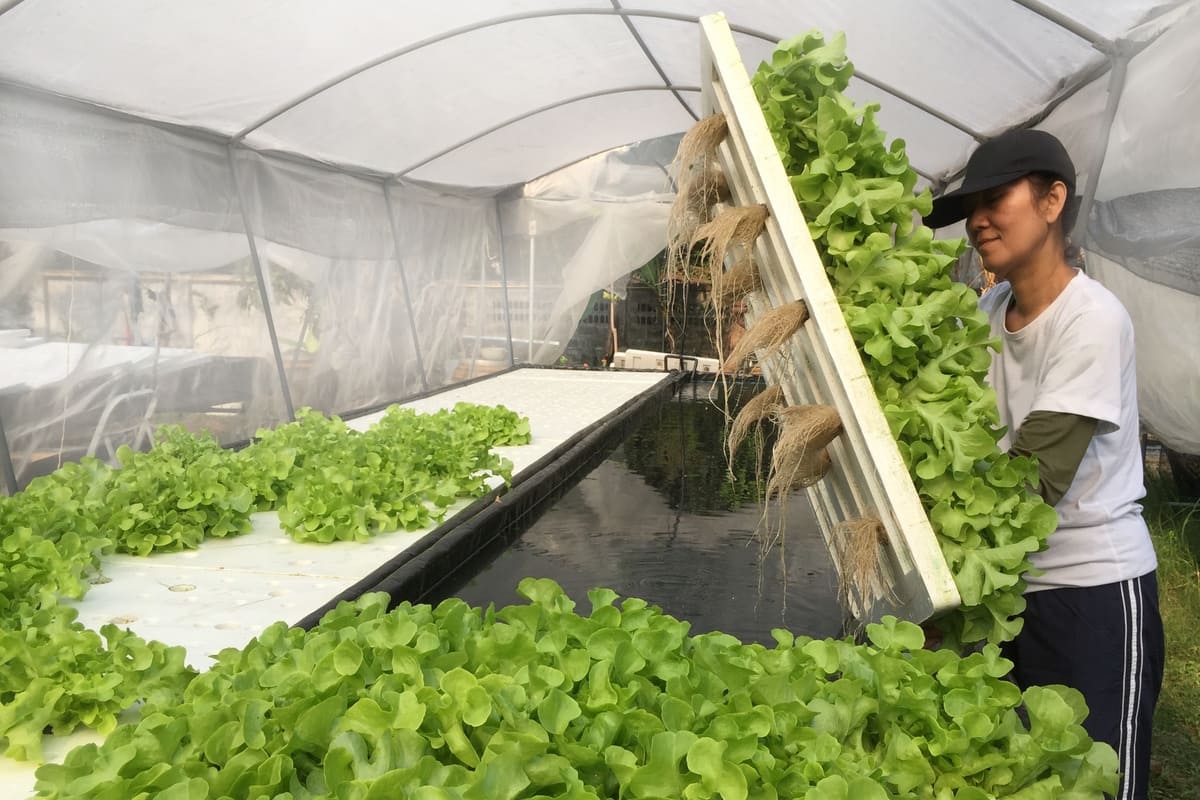 What are the advantages of aquaponics for CBD?
An ecological production
Aquaponics is simply a system that follows the natural life cycle of animals in nature. Once your installation is operational, you have almost nothing to do but let nature take over. Apart from a few water changes once or twice a season, you will save water. By adding a tank and a pump, you will also save some electricity. So why not grow in an economical and ecological way?
A fast production
Contrary to the traditional culture in the ground, aquaponics allows to harvest up to 10 days earlier. Without human intervention, this natural production cycle is more efficient and faster.
An abundant production
If this technique is so appreciated by hemp growers, it is mainly for its generous yields. By choosing aquaponics over a traditional soil-based cultivation system, you can expect up to 25% more harvest.
A quality production
With aquaponics, you are guaranteed to get cannabis flowers of the highest quality. Your plants will be rich in nutrients, their smell will be strong and their aroma will be completely enchanting.
What are the limitations of aquaponics?
Aquaponics is not for everyone. Again, if you have no experience with hemp, it can be very complicated. In order to start aquaponics, you need to have a good command of the equipment to use, as well as a solid knowledge of hemp farming.
Although aquaponics is a very interesting method to obtain quality hemp in large quantities, mistakes can be made quickly and easily. Contrary to growing in soil, the assimilation of elements by the plants is much faster, whether they are good or bad. In order not to make a mistake, it is therefore necessary to do a lot of research beforehand and, if possible, to be accompanied by someone who has experience in this field.
In addition to mastering the cultivation of cannabis, you obviously need to master the breeding of fish. While the goal is to get nice marijuana yields, you should not neglect the fish as well, as one does not go without the other. At the end of the day, for your system to be truly effective, you need to know how to feed your fish properly, at the right frequency and with the right products. In conclusion, we can say that aquaponics is a growing technique for enthusiasts who are not afraid to spend hours taking care of their plants and fish!
Can we use any fish in aquaponics?
In aquaponics, you can raise several species of fish, but not just any species. The most suitable species for aquaponics are: goldfish, catfish, trout, tilapia, common carp, perch and crayfish. In general, freshwater fish are ideal for aquaponics.
Can all plants be grown in aquaponics?
Of course, you can only grow plants with a THC content of less than 0.2%. But not all plants are cannabis. You can also use your installation to grow fruits, vegetables and even herbs.