You're probably wondering why CBD doesn't make your eyes red like THC, even though both cannabinoids come from the same plant. Why one and not the other? What is the difference between THC and CBD? Why does THC cause red eyes and what can be done about it? All the answers to your questions about CBD and red eye can be found in this article.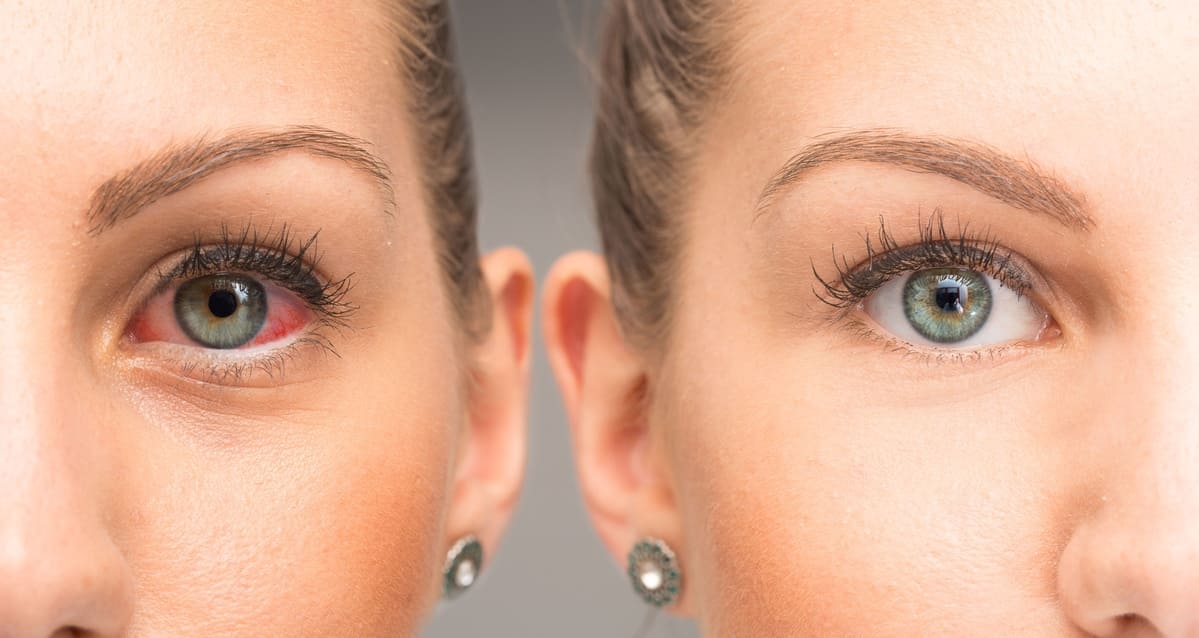 Why is CBD not responsible for red eyes?
Therapeutic cannabis can relieve many pains, alleviate stress and anxiety, and help you get a good night's sleep. Indeed, it is able to affect mood, appetite, pain, sleep, and many other parameters to regulate your body. But when it comes to red eyes, THC is the only molecule responsible.
This is because THC lowers blood pressure and dilates blood vessels, which causes small blood vessels to appear in the eyes. This high blood flow is manifested by red, irritated and watery eyes. A look often associated with cannabis smokers.
That said, CBD is a cannabinoid that does not act like THC. CBD doesn't cause that rush of blood to the eyes, so it's not responsible for red eyes. But the difference between CBD and THC does not end there. To fully understand, it seems essential to know the fundamental differences between these two molecules.
The difference between CBD and THC
THC
Hemp lovers have always consumed THC. This molecule, naturally present in cannabis plants, causes psychoactive effects that are highly appreciated by some people, yet illegal. Without human intervention, cannabis has a THC content that predominates over CBD. In some countries, THC can be used for medical purposes. Although THC is still prohibited in France because of its psychoactive effects, its potential should not be underestimated, nor should we stigmatize consumers who may find it a source of relief.
CBD
Over time and genetic crossbreeding, some varieties with high CBD content have emerged. Today, products marketed with CBD do not contain THC. They are therefore completely devoid of psychoactive and euphoric effects. CBD allows you to relax, relieve physical pain and sleep well, without altering your physical and mental state, and without any danger to your health.
How does CBD work on the body?
At first glance, THC and CBD look very similar. But if you take a closer look at them, the way they work and their effects are totally different. One of the biggest differences is the chemical structure of CBD, which contains an extra combination of oxygen and hydrogen. This extra layer allows the multiple benefits of cannabis to be enjoyed without disrupting cognitive abilities.
From scientific research, we know that CBD is intimately linked to the endocannabinoid system. Thus, it regulates the body in a beneficial and non-aggressive way. Among these beneficial effects, we can mention the regulation of sleep and mood, the relief of physical pain and mental tension. The dilation of blood vessels and the appearance of red eyes are not part of the effects of CBD.
Why do THC users have red eyes?
As previously explained, the main reason why THC users get red eyes is because of the dilation of blood vessels, especially the blood flow to the eyes. The higher the level of THC, the greater the effect.
The eyes can also become red from tobacco smoke, which is often very irritating. Smoke that enters the sinuses can also make this problem worse. This explains why smokers of cannabis in joint form have red eyes much more easily.

CBD and red eyes: beware of scams!
You have consumed CBD and you have red eyes? You should ask yourself questions about the origin of the product you bought. If your CBD came from a friend or an uncertified seller, you may have consumed THC without your knowledge. In fact, if you have experienced a cerebral high, a great euphoria and an almost uncontrollable urge to sleep, you can be sure that you have taken cannabis with THC.
Normally, all CBD products that you can find on the internet or in a physical shop are subject to numerous quality controls and must meet very strict European standards. By going through a reputable and certified seller, you are guaranteed to get a product rich in CBD and totally free of THC. To conclude, always be vigilant about the origin of the products you consume to avoid unpleasant surprises.
How to get rid of red eyes?
However, if you have been consuming THC or using CBD with tobacco, you probably want to get rid of those unsightly and slightly painful red eyes. To relieve the inflammation and get back to healthy eyes, here are some tips:
Use eye drops: Putting a few eye drops in your eyes will quickly and effectively relieve the inflammation, while reducing the red, irritated appearance.
Consume vasoconstrictors: Certain foods such as chocolate, coffee, and salt help counteract the dilation of blood vessels by narrowing them.
Be patient: Red eyes never stay red for long. Sometimes all it takes is a little rest to make red eyes go away. In the meantime, avoid exposure to screens and sunlight for a few hours, as this may make the condition worse.
Are red eyes bad for my health?
Red eyes are unsightly and sometimes painful, but they are not dangerous to your health. As long as it doesn't prevent you from going about your daily business, there's nothing to be alarmed about. However, if this problem persists and does not seem to be improving, you should see a doctor to find out what is causing the problem. As a reminder, it is very unlikely that CBD is responsible for the appearance of red eyes.
Is CBD completely legal?
Yes, CBD is completely legal as long as the finished product does not contain THC and it meets all the current European standards. CBD is not considered a narcotic, doping or psychoactive product. The French law authorizes its marketing under certain conditions: the cultivated cannabis plants must not contain more than 0.2% THC and the finished product must not contain any. THC, however, is still illegal in France. Its marketing and use can be punished by law. All the more reason to choose your CBD products carefully!