Understanding cannabinoids to know the difference
Both THC (tetrahydrocannabinol) and CBD (cannabidiol) are molecules derived from Cannabis, a plant classified as a cannabinoid. This plant category includes, for example, hops and hemp.
The two components of cannabis, THC and CBD, act on the body and mind, but they mainly act on the endocannabinoid receptors known as CB1. These are located in the brain and central nervous system. CBD also acts on the CB2 receptors located in the immune system, in other words, the whole body.
It is the way the two molecules act on the CB1 and CB2 receptors that makes all the difference...
THC and its relationship to anandamide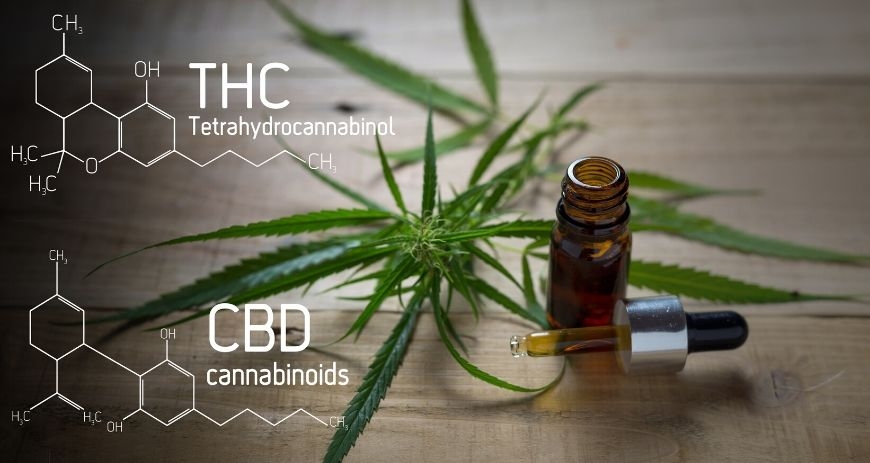 THC acts on neurotransmitters, but that doesn't mean it's beneficial to health... In fact, it is a psychoactive substance that causes psychotropic effects that can be a risk to the well-being of your body and mind. This is why, like cocaine or heroin, cannabis containing THC is considered a drug. A substance classified as a narcotic, the use of cannabis is prohibited in France because of its undesirable psychoactive properties and the trafficking that cannabis consumption encourages. Not to mention that cannabis use encourages the risk of addiction, so it is an addictive substance with many side effects.
THC, when consumed, travels to the cannabinoid receptors to activate and stimulate them. In other words, it replaces the role of anandamide, an endocannabinoid naturally present at the receptors. Anandamide is responsible for naturally stimulating the CB1 molecule, more commonly known as the happiness molecule. The latter is responsible for increasing appetite by offering a feeling of pleasure when eating certain foods. It also intervenes after a sports session, it comes to reward the body by a feeling of well-being.
THC replaces anandamide and that's the problem. Indeed, it causes feelings of happiness capable of encouraging a certain dependence...
CBD, an antagonist of THC
If the long category of drugs mentions THC, it is not the case of CBD. Why not? A simple explanation can answer this question: CBD has no psychotropic effect, on the contrary, it is beneficial to health and can be used medically. Coming from Cannabis Sativa, cannabidiol is a molecule authorized in France and very controlled. Defined as therapeutic cannabis or medical cannabis, CBD has many virtues.
Cannabidiol relieves chronic pain and helps patients suffering from Schizophrenia, cancer, multiple sclerosis, etc. Its therapeutic benefits are still being studied, but initial research shows that this amazing molecule can be used for medical purposes. Medicinal CBD can be consumed orally, by inhalation, by vaporization and new ways of consuming it are discovered regularly. It has been found to be useful in reducing vomiting, nausea, epileptic seizures, or as a support for the side effects of chemotherapy. Cannabidiol is also an ally in any kind of withdrawal, whether it is for a drug addiction or to fight against smoking.
On the same subject:
THCA: its function, its effects, its difference with THC