Indeed, CBD is increasingly present in cosmetic products such as creams, treatments, lotions, masks, oils, shampoos, etc.. It is found in many beauty products that promise multiple benefits for the skin, hair, and the whole body. Can we consider CBD as a new beauty ingredient?
CBD is known to regulate stress, mood, appetite, sleep and pain. And yet, it also has healing, anti-aging, antioxidant, firming properties that are extremely beneficial to the skin. As such, it is not surprising to find it in beauty products that are supposed to preserve and improve the quality of your skin. Moreover, it is a natural product that is a totally healthy alternative for your skin, unlike many of the chemical components found in most popular creams and skincare products. Find out in this article what the benefits of CBD are for your skin, what it can do for you over others, and how to use it properly to harness its full potential.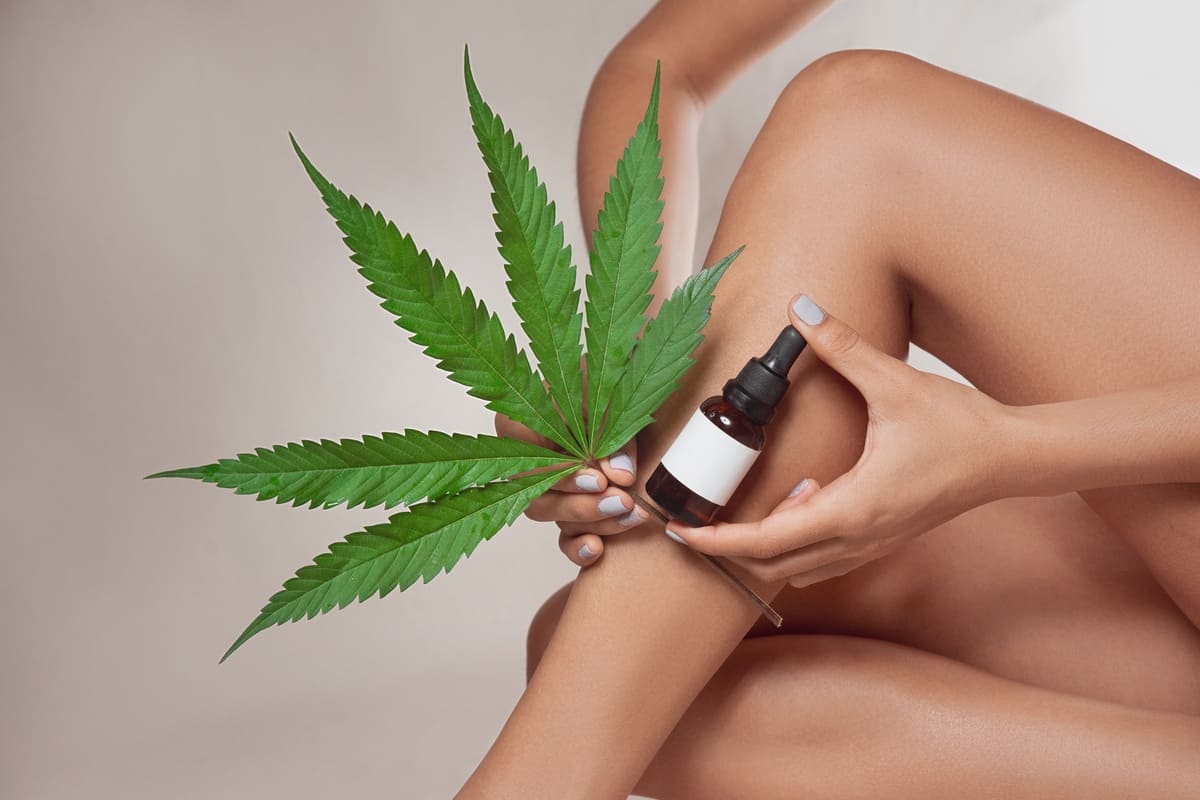 Why is CBD so beneficial for the skin?
To fully understand the use of CBD in the cosmetic industry, it seems essential to know the benefits of CBD for the skin. Although CBD has become increasingly popular in recent years, its appearance in beauty products is not a coincidence or a mere fad, but a real revolution for your skin.
Anti-inflammatory properties
Every day, your skin is subjected to aggression and inflammation due to UV rays, pollution, smoking, or skin disease. These inflammations result in pimples, redness, oedema and sometimes even itching. In addition to being unsightly, these inflammations are often unpleasant and difficult to fight. The good news is that CBD is a natural anti-inflammatory that can relieve irritation, reduce redness, and deflate the skin, especially dark circles. Thus, it is often found in face masks, anti-dark circle roll-on gels or dermatological creams.
Anti-aging properties
CBD naturally boosts the production of collagen, which results in younger, more elastic and healthier skin. Thanks to its anti-aging properties, CBD makes the skin soft and tight, like a lifting effect that gives your face a youthful glow. It acts on wrinkles, dark circles, and all the marks of aging that appear with time. On the one hand, it can be used as a preventive treatment to prevent wrinkles and sagging skin. On the other hand, it can be used to reduce the marks already present.
Antioxidant properties
CBD has antioxidant properties that are essential for blood circulation and fat oxidation. Again, this contributes to the reduction of age marks, but also of stress, fatigue, and smoking. These antioxidant properties are also very interesting for the reduction of cellulite, stretch marks and small imperfections present on the whole body. Some scientific studies have even revealed the effectiveness of CBD to promote fat burning and thus, facilitate weight loss as part of a diet.
How can CBD take care of your skin?
Now that you know the main virtues of CBD on the skin, you are probably wondering how it can be useful to you, in what context to use it, and how to consume it properly. All skin types are different, and each one can be affected by a distinct problem. In the cosmetic industry, CBD is mainly used to reduce pimples and blackheads, fight skin diseases, combat cellulite, fade dark circles, accelerate the healing process and slow down skin aging.
Reduce pimples and blackheads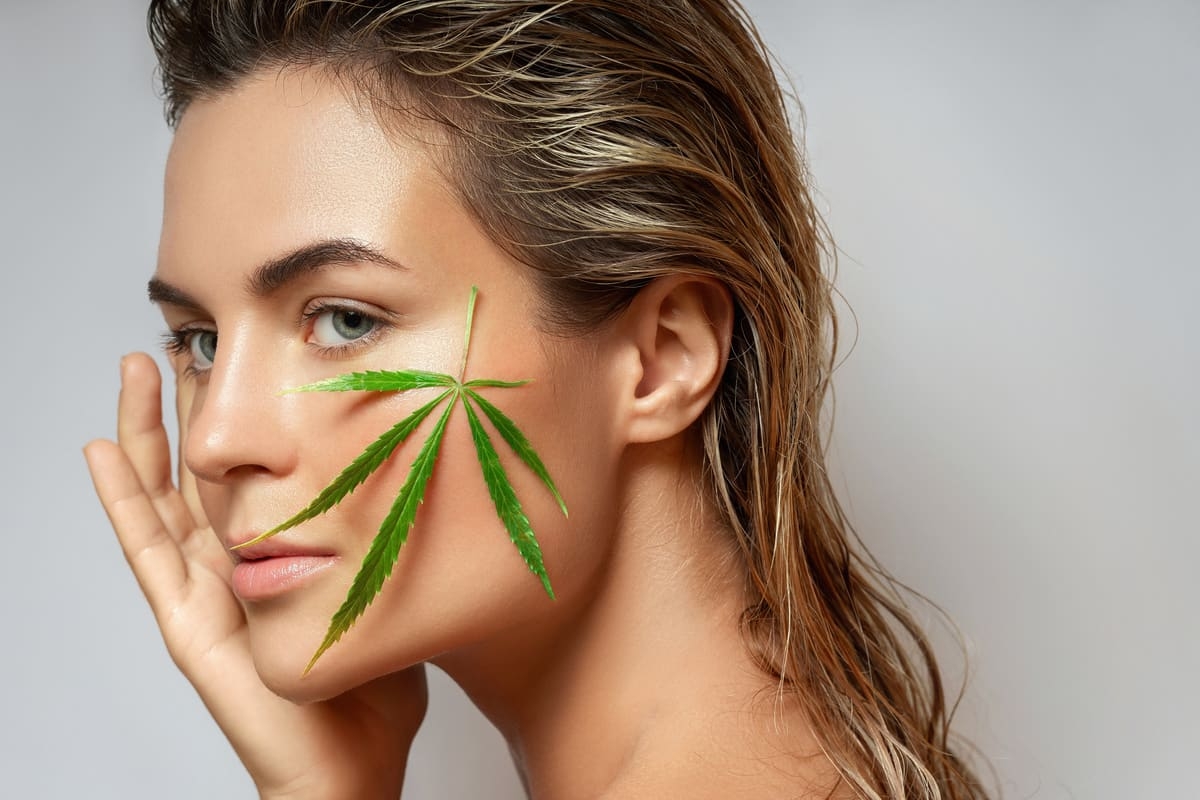 CBD can help you reduce skin imperfections such as pimples and blackheads. When used daily, it regulates excess oil, reduces clogged pores, soothes inflammation, removes small pimples, and improves the overall quality of your skin. The advantage is that it can be used on all skin types, even the most sensitive.
Of course, the use of CBD-based skin care products must be accompanied by an excellent lifestyle to obtain optimal and lasting results. Taking CBD alone will not work miracles if you do not take care of your health. It is therefore important to stay well hydrated, eat a healthy diet, practice regular physical activity and apply your skincare daily to see a real change in your skin.
Used wisely, CBD-based cosmetic products can replace chemical and aggressive creams. After several weeks, you may notice that your skin will be much healthier, with far fewer blemishes than before.
Fight against eczema and psoriasis
Psoriasis and eczema are chronic skin diseases caused by an accumulation of inflammatory cells, or excessive angiogenesis of the dermis. They manifest as red patches all over the body, irritation and itching that can become a real complex in everyday life. According to the latest scientific studies conducted on this subject, it seems that CBD is particularly effective in reducing inflammation, where most drug treatments fail.
A new scientific study from Korea has also found that CBD may regulate mast cell activation, which in turn may reduce the symptoms of skin diseases such as psoriasis and eczema. As a result, CBD offers a complete action on these dermatological disorders, as it relieves itching, fades redness, and fights the development of new inflammatory cells under the skin.
Fight cellulite and stretch marks
As surprising as it may seem, CBD can help you reduce the appearance of stretch marks and cellulite. This is because topical application of CBD makes the skin naturally younger and more elastic. It can be used as a preventative measure to maintain skin elasticity, or directly on cellulite and stretch marks to fade them. By boosting collagen production, CBD contributes to the health of your skin.
In addition to erasing orange peel skin and stretch marks from your body, CBD facilitates fat burning. In other words, it optimizes the process of fat elimination, which facilitates weight loss. Of course, taking CBD won't make you lose weight drastically. But if you consume it regularly along with a healthy diet, a slimming program and sports activity, it can help you get results faster.
Reduce puffiness and dark circles
Thanks to its antioxidant and anti-inflammatory properties, CBD can help you deflate puffiness and fade dark circles under your eyes. It can be found in the form of a gel, cream, or oil to be applied to the eye area to restore a healthy, alert look. CBD soothes irritation, reduces the appearance of redness and puffiness, eliminates signs of stress and fatigue, prevents the appearance of wrinkles and reduces the signs of aging.
CBD is a natural substance that is ideal for giving your skin a youthful glow. If you use it daily, the effects will last in the long term, since CBD acts deep down. To fight against the marks of age and fatigue, CBD fights against the oxidation of fats under the skin and promotes good blood circulation.
Accelerate the healing process
Whether it's acne scars, a burn, a wound or an insect bite, scientific studies have proven that CBD accelerates the healing process of epidermal tissue. Thanks to its analgesic, antiseptic and anti-inflammatory properties, it participates in the healing process of your skin.
It is notably thanks to its beneficial action on the endocannabinoid system that CBD regulates and optimizes the healing process. By applying a CBD-based cream or oil on your skin, the cannabinoids act directly on the CB1 and CB2 receptors present in the dermis and epidermis, which simply contributes to their proper functioning. In a first step, CBD soothes pain and inflammation. Secondly, it accelerates the healing process and allows your skin to regenerate as quickly as possible.
Slow down the aging of the skin
With age, fatigue, stress, smoking and pollution, your skin ages. Of course, no one appreciates the appearance of the first wrinkles, nor the sagging of the skin on the face. But rest assured, skin aging is a normal phenomenon that affects everyone. Moreover, there are a few beauty tips and ingredients to slow down this phenomenon, and CBD is one of them.
Thanks to its antioxidant properties, CBD reduces the first signs of aging, prevents the appearance of the first wrinkles and optimizes the elasticity of the skin. It boosts collagen production and keeps your skin soft, firm and elastic.

How to use CBD to take care of your skin?
Local application
To enjoy the multiple benefits of CBD on your skin, it is strongly recommended to apply a cream, gel or oil locally on the area to be treated. The local application of a hemp-based product is the best solution to maximize the benefits, since the cannabinoids do not pass through the bloodstream, but directly through the different layers of the skin. If you haven't found any ready-made CBD cosmetics, you can buy a classic CBD oil and incorporate it into your regular creams.
Oral consumption
You can also consume CBD orally as a supplement to topical application to help support your skin health and overall well-being. For example, you can consume CBD herbal teas, capsules, or edibles to help you relax on a daily basis, reduce your stress and anxiety levels, and enjoy quality sleep. Automatically, if you sleep well and remove stress from your life, you will look much better without even having to apply cream to your face.
What can CBD really do for you over other products?
You may be wondering why you would choose one CBD product over another. You may even be prejudiced against cannabis and not trust these products. What does CBD have to offer that others do not? Is it just a fad or a true revolutionary beauty ingredient? Many of you are asking this question.
For starters, CBD is a natural product that has nothing but benefits to offer you. It is safe for your health and has no unwanted side effects. It can be suitable for all skin types, all ages, and treat many skin problems.
No, CBD in cosmetics is not a fad. Its recent democratization in CBD shops has allowed its expansion in the world of beauty and wellness, and this is good news. Until a few years ago, it was almost impossible to get this kind of products in France. Today, cannabis is no longer a taboo subject and it doesn't have the same reputation as when it was still associated with THC (tetrahydrocannabinol).
Yes, CBD in cosmetics is revolutionary because it is much more effective than some chemicals. This is often the case with natural plant-based products. However, CBD is not a miracle product that will solve all your skin problems. A healthy lifestyle is essential to increase the virtues of CBD and enjoy a beautiful skin.
Which cosmetic product to buy to start with CBD?
You can start with a mask or a single-use treatment to test the CBD on your skin. If you're happy with that, you can invest in a cream or oil and make it part of your new beauty routine.
Can CBD cause an allergic reaction on the skin?
No, CBD is not responsible for any side effects or allergic reactions. If in doubt, do a test on a small part of your skin. And above all, read the composition of the cosmetic products you buy. Very often, it is other components than CBD that are responsible for an adverse reaction.