To relieve osteoarthritis in dogs, without causing harmful side effects to their health, it is possible to administer CBD to them. According to recent scientific research, CBD is an excellent natural alternative that can significantly reduce the symptoms of osteoarthritis in dogs
The use of CBD in animals is no longer a secret, it has been a revolution for some years now. Known to rebalance the endocannabinoid system in both humans and animals, CBD has an anti-inflammatory action that can relieve your pets' joint pain. In this article, find out what the benefits of CBD are for dogs suffering from osteoarthritis and more importantly, how to properly administer it to end these chronic pains.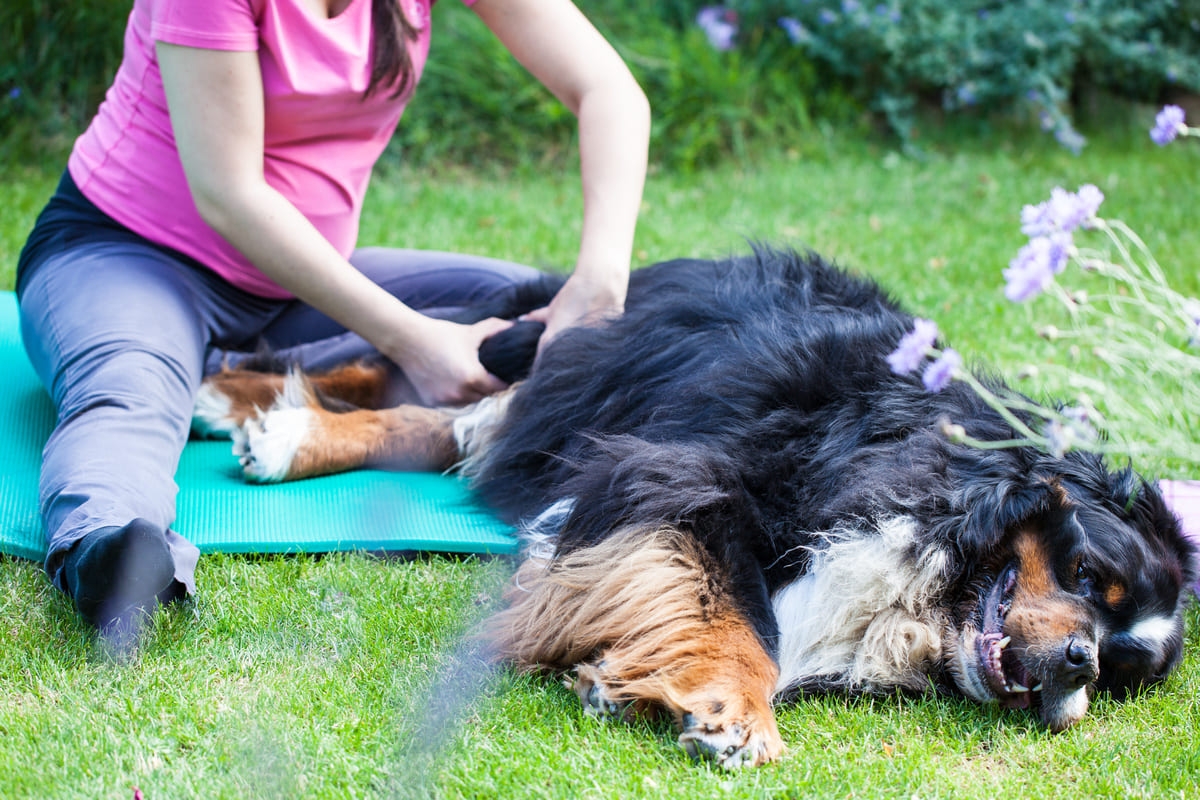 What are the benefits of CBD for dogs suffering from osteoarthritis?
Well known for its anti-inflammatory properties, CBD effectively relieves pain associated with osteoarthritis in dogs. Where conventional anti-inflammatory drugs prescribed by veterinarians can cause numerous side effects, CBD is a completely natural and safe substance for your pet. In fact, you can give CBD to your dog without any psychoactive effect or any adverse health effects.
In addition to acting as a natural painkiller for animals, CBD helps to calm stress and anxiety, fight nausea, protect his nervous system and strengthen his cardiovascular system. As you can see, CBD is full of benefits for dogs. As it is usually the older dogs that suffer from osteoarthritis, CBD allows to relieve them, while offering them a renewed vitality. Thanks to CBD, your dog's joint pain disappears and his energy is increased tenfold.
What do scientific studies say about CBD intake in dogs?
Recently, Cornell Veterinary University highlighted the enormous potential of CBD for dogs with osteoarthritis. To conduct this study, 22 dogs were tested, with several doses of CBD oil. Some were given a low dose of 2 mg per kg, while others were given a higher dose of 8 mg per kg. And finally, the last ones received a placebo. The intensity of the pain was evaluated by the veterinarians and the owners over several days.
The results speak for themselves: All the dogs that took CBD saw their pain decrease and their activity increase, while the dogs that took a placebo saw their pain increase slightly. While previous studies had already mentioned the benefits of CBD for dogs and cats, this more specific study demonstrated the effectiveness of CBD in osteoarthritis. As a reminder, the biggest problem with this disease is that it is always treated with very heavy drug treatments that cause irreversible damage to the kidneys and digestive system. So, if this natural alternative relieves them gently and allows them to live quite normally, why deprive them?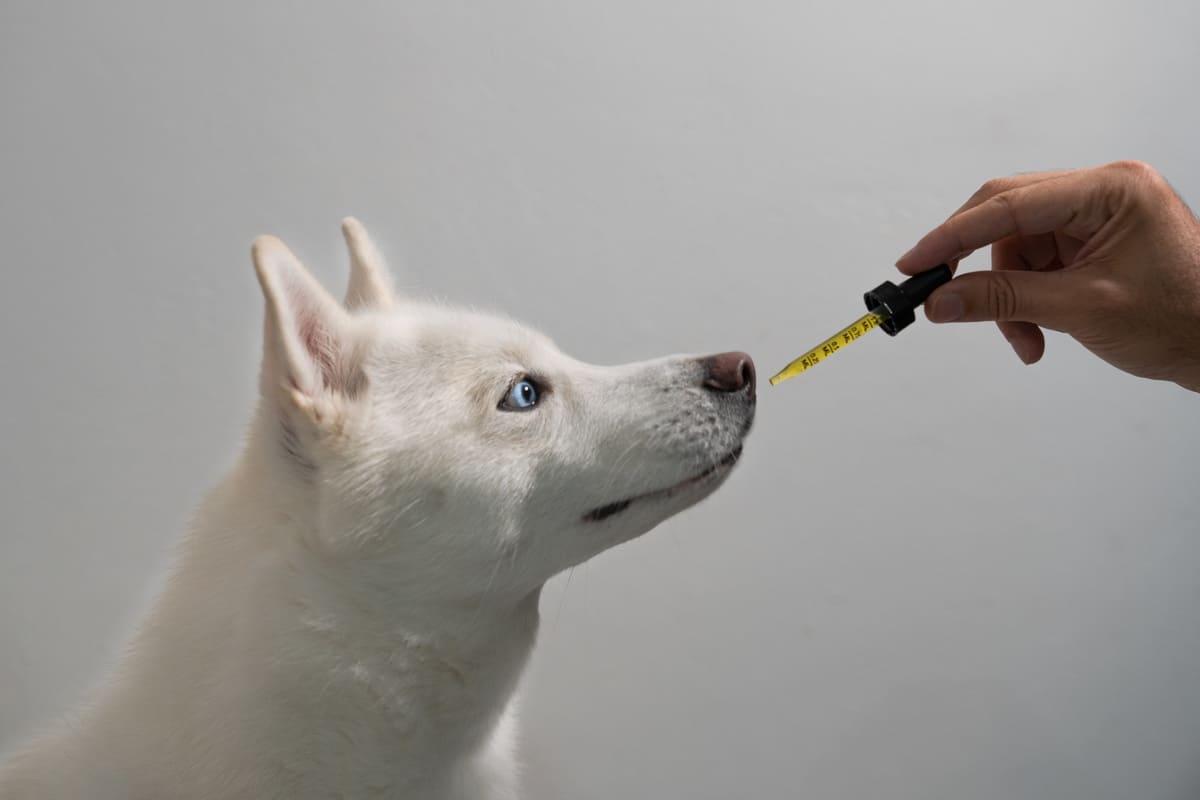 How to give CBD to your dog?
The method of administration
To give CBD to your dog, you have the choice between CBD oil or CBD pellets. Generally, the oil is easier to administer because you can either put it directly under the tongue or pour a few drops in his food. It's mostly a matter of habit and preference. Either way, both methods are completely safe for your dog. Since it is a natural product, there is no risk of side effects. Besides, all CBD products for dogs are specially designed for animals, tested in laboratories and approved by veterinarians.
The dosage
According to the recommendations of veterinarians, you should follow these dosages:
For small dogs: maximum 6 drops of CBD oil per day.
For medium dogs: maximum 12 drops of CBD oil per day.
For large dogs: maximum 15 drops of CBD oil per day.
Of course, these doses may vary from one dog to another, depending on his weight, age and the intensity of his pain. This is why it is very important to be followed by a veterinarian when you undertake this process. No matter what changes you impose on your pet, the advice of a professional will always be of great help.
And above all, be patient. CBD is not a miracle cure. You may need toincrease the doses as you go along to see a real change. For some, a very small dose will be more than enough to get good results. For others, you will need to be patient and persistent. Although there is no risk of overdosing with CBD, there is no point in giving him a lot to relieve him more quickly. On the contrary, if you give him too much at once, the effects will be less and less effective.
Some recommendations for giving CBD to your dog
Ask a veterinarian for advice: Before changing your dog's diet or habits, it is always best to seek professional advice.
Test with a small amount: Although the side effects are still unknown at this time, it is always prudent to test with a small amount to see how your dog reacts to the new product.
Take notes of his evolution: For a few days, write down the evolutions in a logbook. Decrease in pain, increase in activity, resumption of certain habits... This way, you can really know if CBD has a positive impact on your pet.
Take stock with your veterinarian: Do not take the initiative to increase the doses without consulting your veterinarian first. Talk to him about the changes you have noticed, whether they are positive or negative.
Can we give any CBD product to a dog?
No, you should not give just any CBD product to your dog. There are CBD oils, capsules and lozenges that have been specifically designed for animals. Typically, these products have nutritional supplements, flavors and food aromas exclusively for dogs and cats.
Can CBD cause side effects in dogs?
No, CBD does not cause side effects in dogs, unlike traditional osteoarthritis medications. It is a natural substance that only provides relaxing, soothing, analgesic and anti-inflammatory effects.