Definition and origins of turmeric: the famous Indian spice
When looking at turmeric from a health perspective – which belongs to the ginger family – one is actually most interested in curcumin. The latter is a chemical component of turmeric, also known as curcuma longa. Turmeric is a spice that has occupied a central place in many cultures since time immemorial. Whether in the culinary, cosmetic, medical and even religious or spiritual fields, its origin can be traced to Southeast Asia, Vietnam, China and India. 'West.
Curcumin is widely used for its particular color and flavor, especially in curries and spicy mustards. Although it is renowned for its unique and inimitable taste, it is even more prized for its antibacterial, antifungal, anti-inflammatory, antioxidant and healing properties, which give it a wide range of therapeutic applications. . In other words, it treats wounds, insect bites, acne, bruises and much more…
While it could only be consumed in root or powder form until a few years ago, we now find turmeric in capsules, tablets, ointment, drink energetic, in cream, oil, soap etc.
The chemical properties of curcumin
Now that you know the potential of curcumin, you should know that combining it with other agents allows it to reach its highest potential. Indeed, due to a low bioavailability, curcumin is difficult to absorb by the body but fortunately, we have the solution! Just take it together with other components like piperine, which is the main active component of black pepper and increases the bioavailability of curcumin by 2000%. In this case, you will put the odds on your side to make the most of the multiple health benefits of turmeric, such as fighting oxidative stress, inflammation, metabolic syndrome, hyperlipidemia, arthritis and anxiety.
Turmeric also benefits the immune system, slows the aging of the skin by slowing the creation of fine lines and wrinkles, it helps to relieve psoriasis and skin problems like acne, reduces serum cholesterol levels and protects the heart. It can therefore play an important role in heart conditions, such as cardiac hypertrophy or congenital heart disease.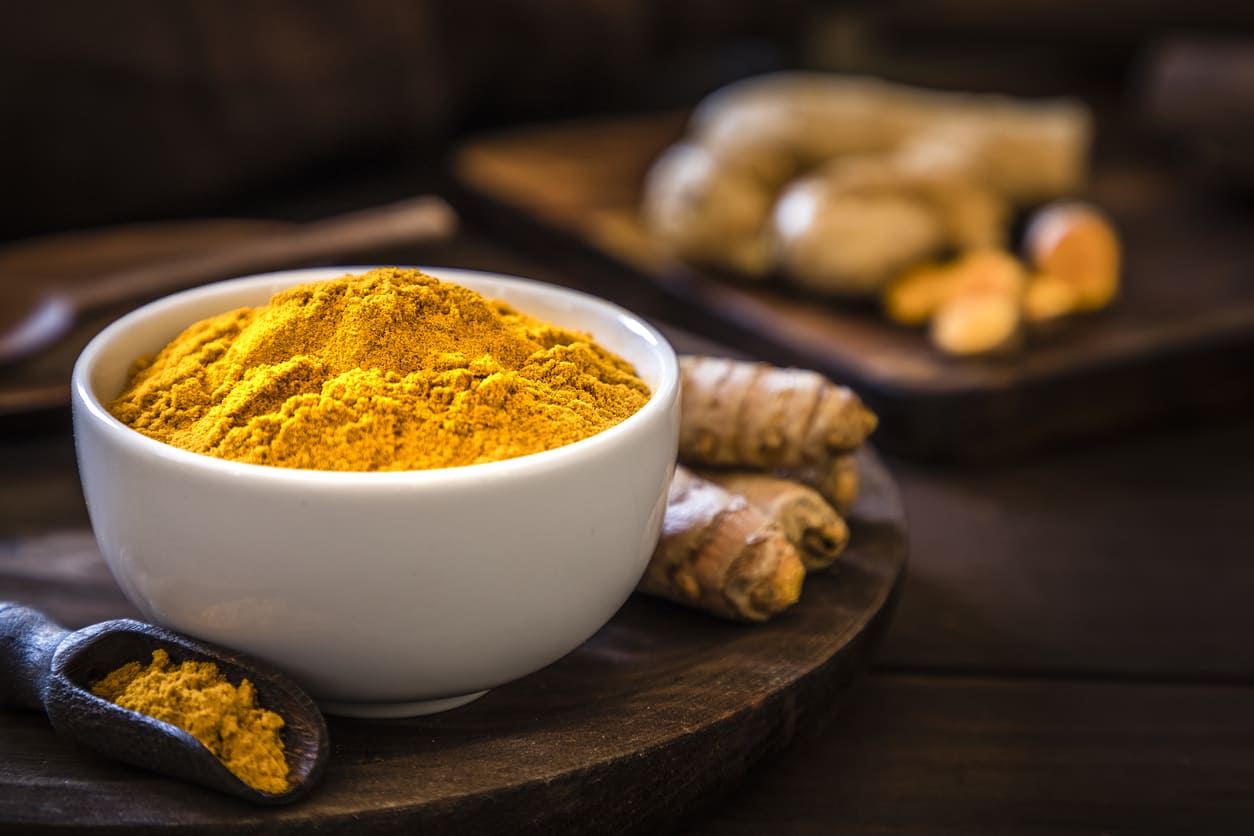 Consuming CBD with turmeric: the explosive combination
As you probably already know, cannabidiol is a healing and wellness giant. Its reputation in these areas is second to none. Naturally present in the hemp plant, it is known to act on pain, anxiety, insomnia problems, nausea, lack of appetite, depressionetc.
Combined with turmeric, we obtain a powerful combination with a tenfold potential. Moreover, clinical research and practical experience have repeatedly confirmed the effectiveness of this happy combination of CBD and turmeric. This is partly due to the "entourage effect" that CBD enjoys when it is accompanied by other substances like cannabinoids or other things. Thus, the strength and performance of cannabidiol is mainly based on teamwork and care must therefore be taken to select the ingredients of choice to properly reinforce the effects. As proof, every time CBD producers play on this by leaving it with other cannabis compounds, such as terpenes, flavonoids or cannabinoids, rather than isolating it, the result is an interactive synergy then leading to greater health effects. In fact, the medicinal properties of each compound in the plant are greatly amplified and everyone benefits!
It is precisely this same phenomenon that applies to the interaction between cannabidiol and turmeric since their powerful synergy drastically increases the anti-inflammatory and antioxidant properties of said products. In addition, we now know that the combination of the two could increase brain function, while strengthening the immune system and reducing pain. Finally, according to some research, turmeric would be able to treat various forms of cancer by attacking cancer cells and therefore reducing tumors.
In summary, the many benefits of turmeric are very reminiscent of those of CBD, so it is better to combine them, instead of opposing them… Cannabidiol, which promotes the production of serotonin and dopamine( happiness and well-being hormones respectively), interacts with the 5-HT1A and GPR55 receptors, responsible for depression, stress and aggression. If you add to this turmeric's magnesium and vitamin B6, you get the perfect combo for a productive and balanced day. Down with stress and anxiety!
It is also known that turmeric provides an energy boost by optimizing the functioning of the digestive system and that CBD allows the body to enjoy better recovery by helping it to have better quality sleep. Therefore, it's no surprise that mixing the two results in a highly effective booster for staying productive all day long.
Concerning the care and beauty of the skin, the combination of CBD and turmeric continues to be talked about for its strong anti-oxidant and anti-inflammatory potential, which allows to treat several conditions such as psoriasis, eczema, acne, etc.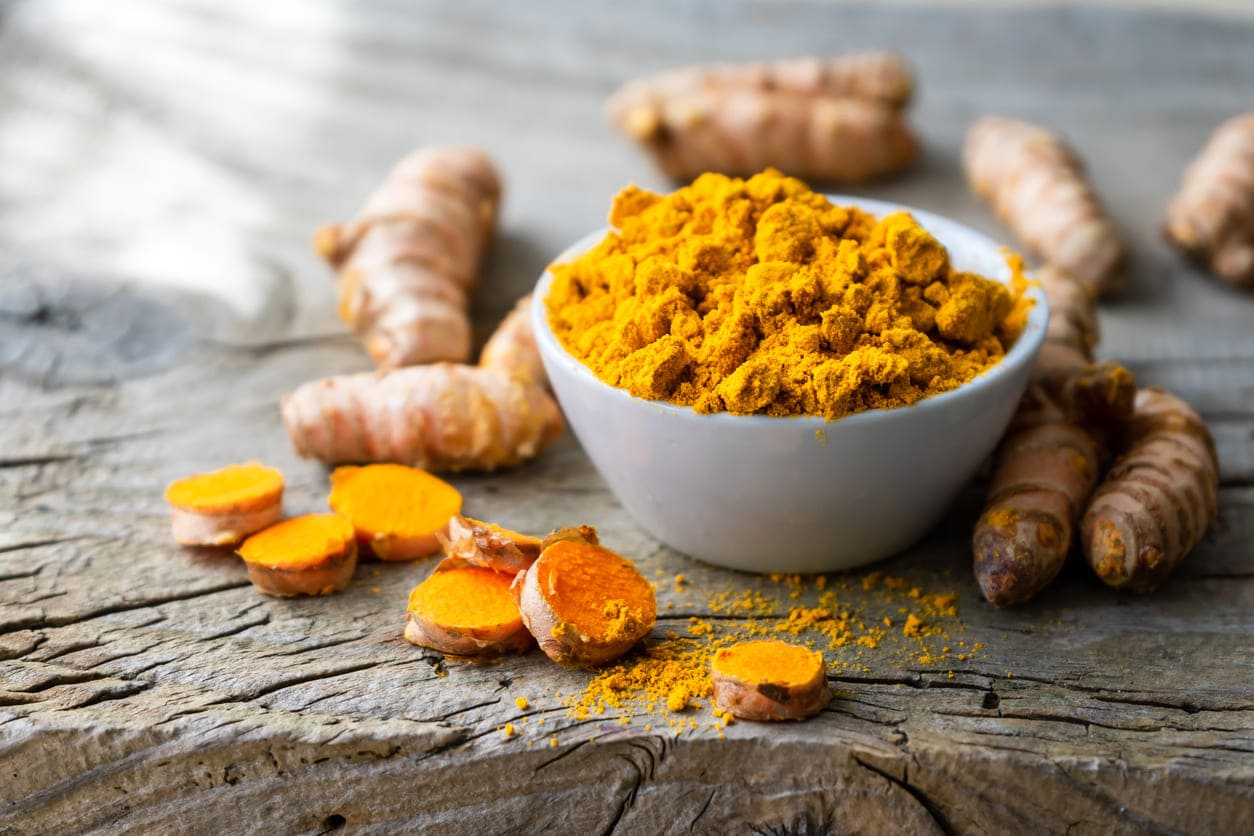 Precautions: what to know before consuming turmeric
Although it is not possible to overdose on turmeric, there are some cases in which it would be better to avoid taking it. For example, people with diabetes undergoing treatment should be wary of the anticoagulant effect of the spice. People with bile duct problems should also abstain, as should people with kidney problems. Because of the oxalate that turmeric releases, it could cause them kidney stones.