1)
CBD oils for animal fans
Faced with the success of cannabidiol, oils have been specially designed to meet the needs of pets.
The latter have a lower concentration rate and have been specially formulated for them.
If someone close to you has a dog or a cat with sleep disorders or anxiety, do not hesitate to offer him a small bottle of CBD oil for animals. The integrated pipette makes it very easy to give some or to slip a few drops into the croquettes.
2)

CBD oil for a wellness gift
The CBD oil comes from hemp plants and offers many therapeutic virtues.
It can relieve many everyday ailments. If you are convinced of its benefits, offering it to a loved one can also convince them, in addition to improving their well-being.
Here are examples of some benefits of CBD oil:
Decreased sleep time,

Reduced number of nocturnal awakenings or nightmares,

Reducing the level of stress and anxiety,

Increased concentration,

Reduction of physical pain,

Strengthening the immune system,

Decrease in the level of inflammation of the digestive system,

Fight against osteoarthritis,

Decrease in muscle cramps.
There are CBD oils with several levels of concentration. If your friend has never used it, choose a CBD oil with a concentration of 5%.
Good to know: CBD oils are usually concentrated between 5% and 30%.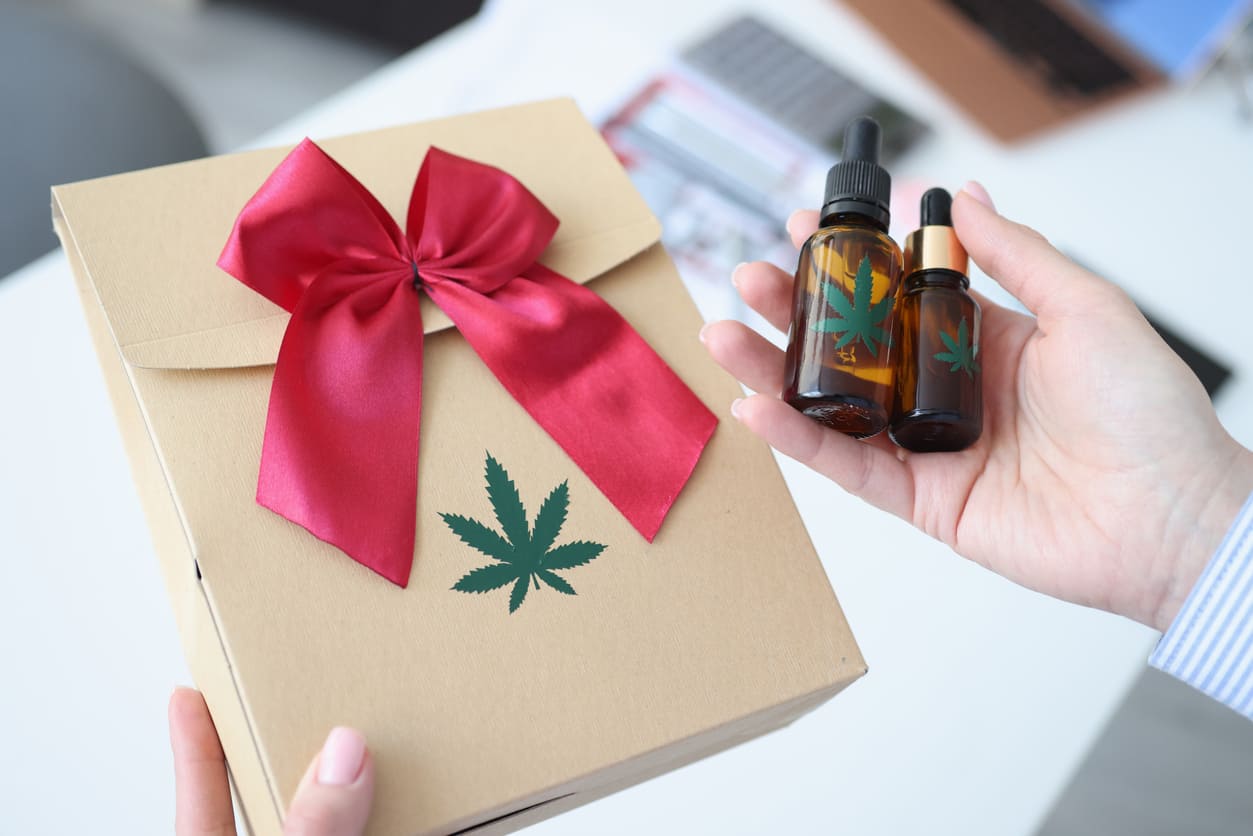 3)
CBD flowers for herbal tea lovers
An original way to offer someone a herbal tea is to offer them one with CBD. If there are ready-made herbal teas, you can also simply offer CBD flowers for this purpose.
In fact, you just have to let the flowers infuse in boiling water to take advantage of the properties of cannabidiol.
CBD herbal teas can help with difficult digestion by relieving stomach upset and reducing inflammation. In addition, it helps reduce bloating.
It is also possible to consume a CBD herbal tea for its relaxing benefits during the day, or in the evening before going to bed to reduce the time it takes to fall asleep.
Our advice : specify that it is necessary to add a fatty substance to the preparation because the CBD molecules are fat-soluble: thus they will be better ingested by the body.
4)
CBD Cakes for Foodies
Want to spoil a gourmet person? Then, of course, opt for the CBD cakes. You can buy them commercially, or prepare them yourself for even more success.
Again, you can use CBD flowers and incorporate them into recipes for brownies, cookies or even chocolate cakes.
Our advice: before cooking the CBD flowers, do not forget to carry out the decarboxylation. This step allows you to get the most out of the cannabidiol molecules. To do this, place the flowers for about 40 minutes in an oven at 120 degrees.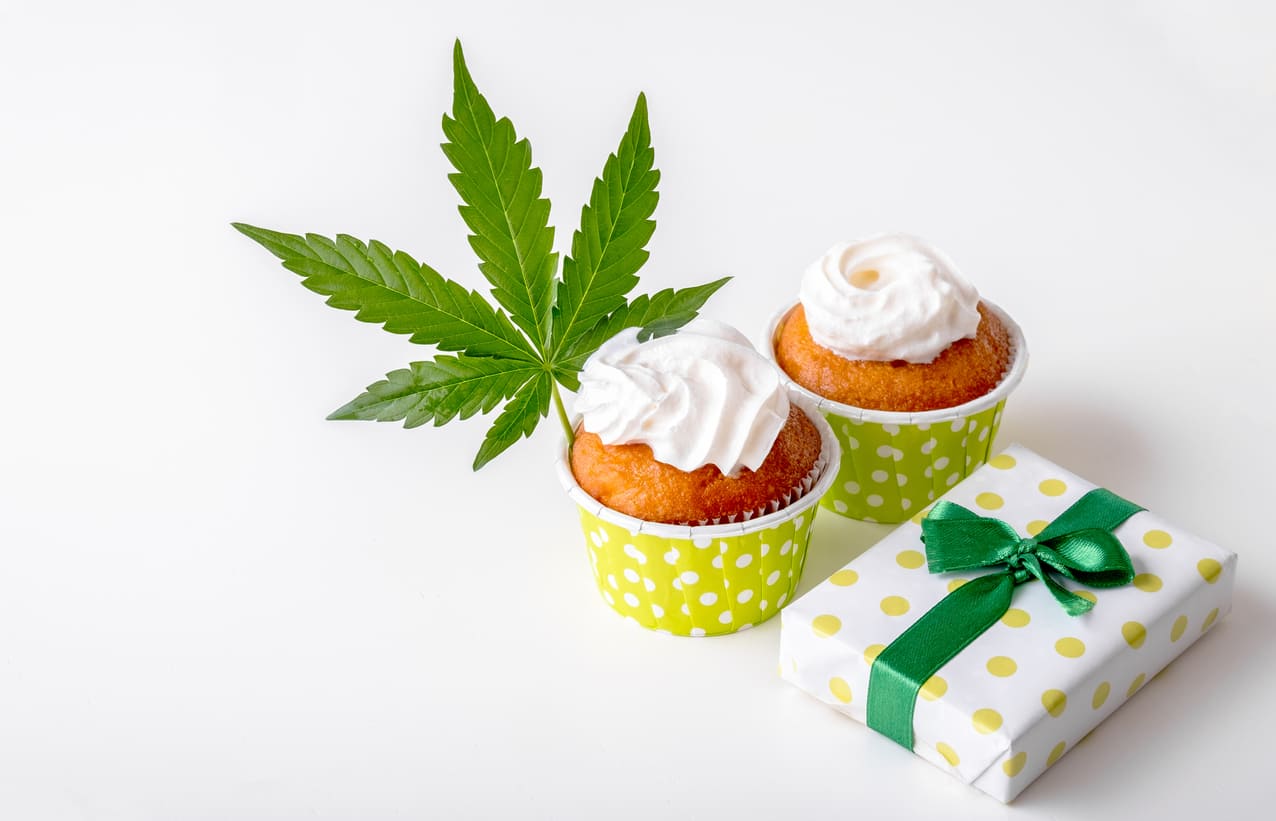 5)
For women: consider CBD creams
There are now many cosmetic products made with CBD: face creams, hand creams, body creams, shampoos, etc.
Cannabidiol is renowned for fighting the visible signs of aging: its moisturizing power also restores firmness to the skin.
In addition to classic beauty products, there are also massage oils or balms based on CBD. There are plenty of choices to please!
6)
A CBD scented candle for lovers
If the person you are giving a present to is already a fan of CBD products, surprise them by giving them a candle this time!
The scent will instantlyprovide a feeling of relaxation. This candle is ideal for lighting at the end of the day, near your bath or during meditation.
7)
For the curious: CBD drinks
The most curious have probably already tested a plethora of CBD products: oils, resins, flowers, waxes, capsules, crystals…
But CBD drinks are still little known and widespread in the trade, apart from herbal teas and infusions.
There are relaxing drinks and energy drinks: it's up to you to make the best choice.
8)
CBD capsules
We all know someone who loves taking supplements. Spoil that person with CBD capsules!
Thanks to this very easy to consume format, it is easy to take care of your health and well-being on a daily basis.
Good to know: CBD capsules work in about thirty minutes, and the effects last for six hours. Enough to provide a long moment of relaxation.
9)
E-liquid for those who already have a vaporizer
Consuming CBD e-liquid is a great alternative to tobacco, and can even help quit smoking.
So you can give it to a friend who has already quit smoking or to a friend who wants it. It is an ideal way to wean yourself off tobacco, because the vaporizer allows you to keep the same gesture as when you smoke. Despite everything, the vaporizer makes it possible to avoid the negative effects of burning products.
What is CBD and why offer it?
CBD, also called cannabidiol, is a molecule derived from the hemp plant. It has many benefits on the human body thanks to its resonance with our endocannabinoid system.
CBD should not be confused with THC (tetrahydrocannabinol), which is a psychoactive molecule with addictive effects. The latter is also considered a drug in France. Moreover, all CBD products in France must contain less than 0.2% THC in order to meet the standards of European legislation.
CBD is therefore completely legal in France, and today there are many products that contain it. The positive and therapeutic effects are very interesting, and CBD has almost no side effects.
On the other hand, you must start by taking small quantities in order to observe the sensations on your body.
Good to know: CBD can have strong relaxing effects (it even fights against deep anxiety), it is recommended not to use it. consume before driving.
Finally, CBD can be consumed in different forms and is easily purchased on the internet or in physical stores.