CBD capsules, what are they?
Capsules contain CBD as we know it, in an easy to swallow pill similar to a vitamin or candy. So you don't have to choose how much to take when measuring from a dropper as you might with a bottle of CBD oil.
Typically, the capsule itself is often made from gelatin, but there are vegetarian options available.
Some oil-based capsules contain hemp phyto cannabinoid extract (which includes CBD) and others use isolated CBD. Some brands add ingredients designed to complement and amplify the effects of CBD. One capsule contains approximately 15mg of CBD from broad spectrum hemp extract.
CBD capsules to reduce acne
Acne is the most common skin condition in humans. With 95% of people affected by acne at some point in their lives. CBD capsules are thought to reduce various forms of acne due to its anti-inflammatory properties and its ability to control the way the body produces sebum, a waxy, oily substance secreted by the skin.
CBD capsules to relieve chronic cancer pain
While it is too early to conclude that CBD is an effective "treatment" or "cure" for cancer, researchers believe that CBD products, such as CBD capsules, help relieve symptoms that occur due to the disease or its treatment.
Many studies have highlighted CBD and cannabis-related products as effective therapies that help cancer patients by stimulating appetite. Many people undergoing chemotherapy experience nausea and loss of appetite, making it difficult to maintain a healthy weight. Studies administering THC and other CBD-related products have shown that ingested cannabis stimulates and encourages appetite. However, evidence that products containing only CBD produce equivalent effects remains limited.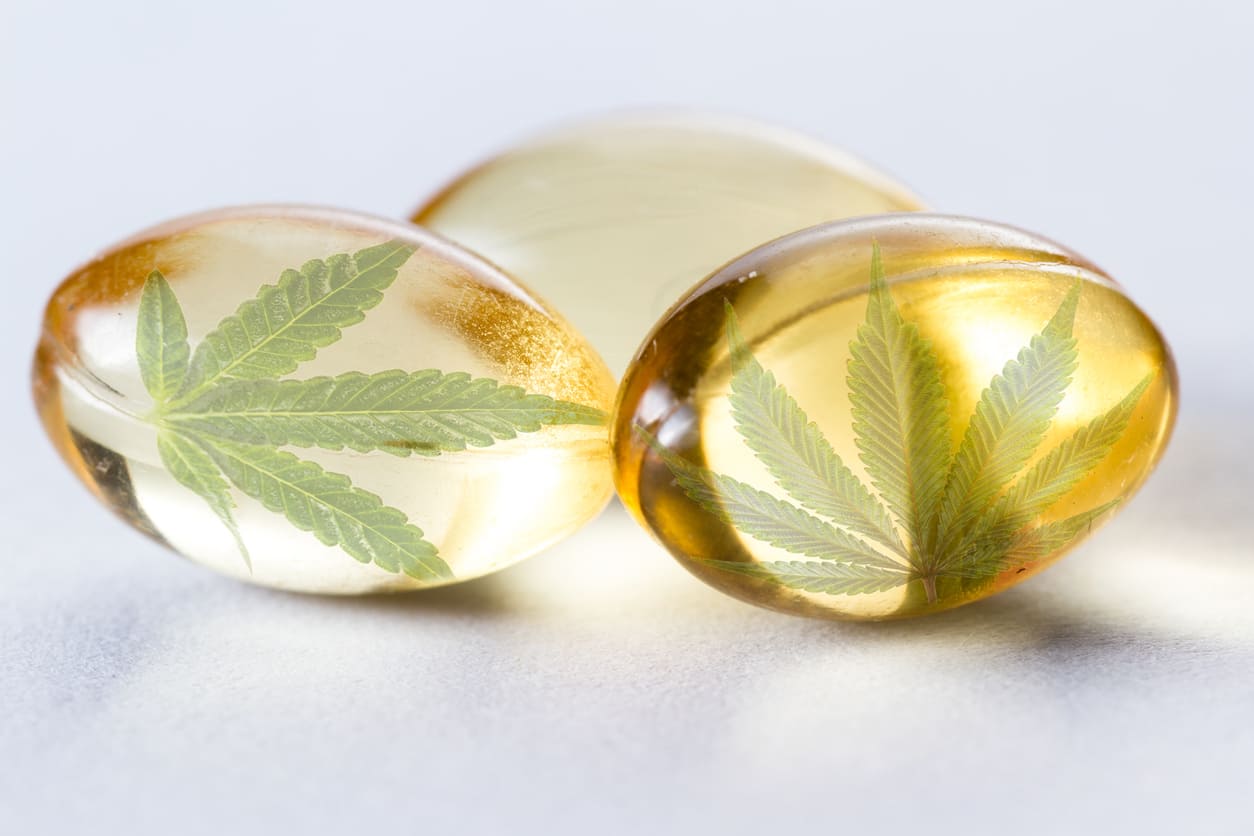 CBD is non-addictive
CBD capsules have been shown to have anti-addictive properties, which may be beneficial for people withdrawing from alcohol, tobacco, cocaine or heroin. In 2018, the World Health Organization (WHO) Expert Committee on Drug Dependence (ECDD) published a critical review report on CBD. It determined that it was not addictive, had no withdrawal symptoms and was well tolerated by the majority of individuals. In addition, the WHO ECDD suggested that CBD should be removed from international drug control as it has no potential for abuse or dependence.
CBD may reduce depression and anxiety
Researchers believe that CBD is beneficial for treating depression because of the positive effect it has on serotonin receptors in the brain. Low serotonin levels are known to be linked to depression and although CBD does not increase serotonin levels. However, it is known to alter the response of brain-based chemical receptors to serotonin that is already present.
A review of animal studies administering CBD oil to evaluate its application as an antidepressant and anxiolytic type compound revealed that, overall, CBD demonstrated non-activation of CB1 and CB2 neuroreceptors. Furthermore, the majority of these experiments using CBD reported positive interactions between CBD and the brain. This review concluded that CBD had significant antidepressant and anti-anxiety effects.
In addition, a more recent review in 2018 discussed the anti-stress effects of CBD and suggested that this property would be responsible for reducing stress-related depression.
There is evidence that CBD capsules are a safer treatment for depression than some antidepressant drugs. The majority of antidepressant drugs require administration for at least a week before any effect can be felt.
A study using CBD capsules has shown that CBD is a safer treatment for depression than some antidepressant drugs.
A study using animal models showed that CBD had a rapid and long-lasting antidepressant effect. CBD capsules may also produce fewer side effects than currently prescribed drugs. Common side effects of antidepressants include, but are not limited to, insomnia, sexual dysfunction, mood swings, irritability. No studies to date have shown CBD to produce any of these side effects.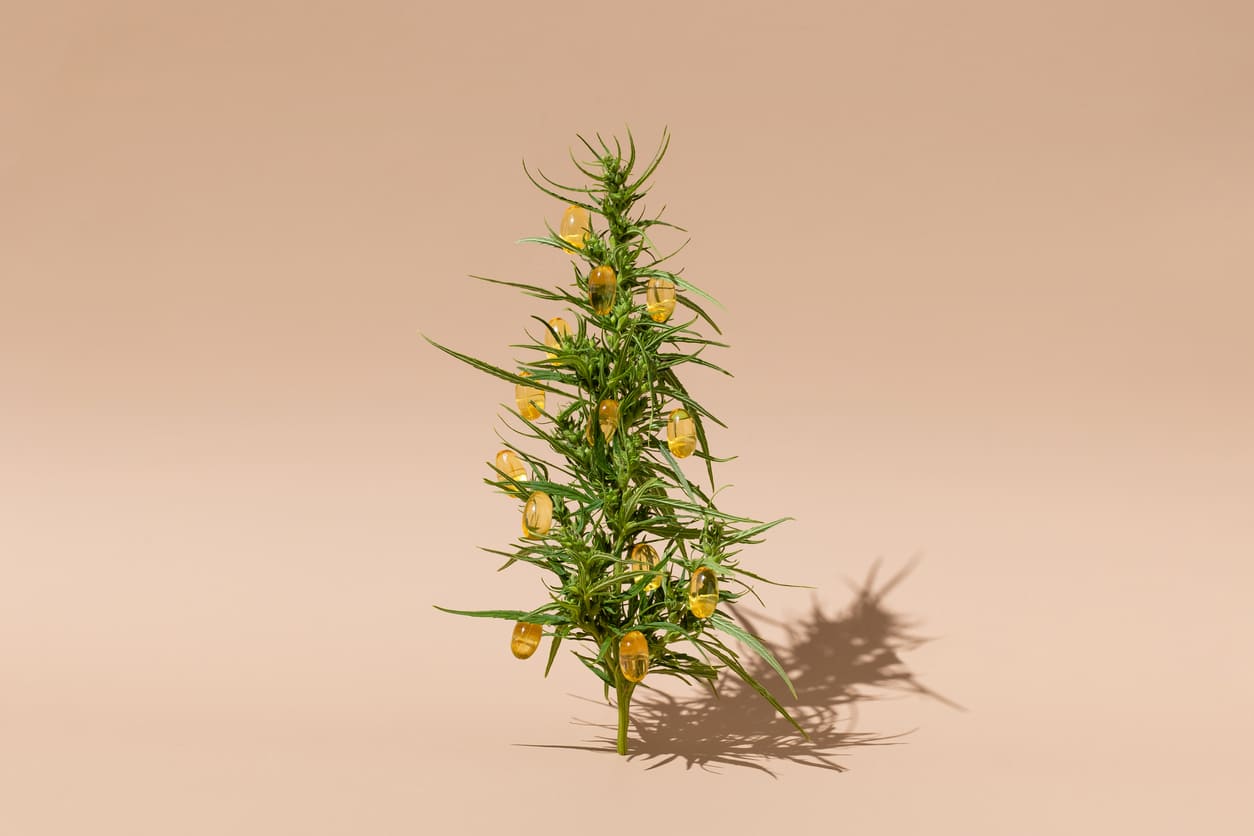 CBD oil vs CBD capsules: the choice is yours
The smallest difference between CBD products can make all the difference in your daily routine. Oil tinctures and capsules, as well as other products like face serums, lotions, drink mixes and even bath products, all take different routes through the body. It determines how long they last and how much CBD your body absorbs. That being said, one type of product is not necessarily better than the other. What is best depends entirely on your personal goals.
CBD capsules are attractive because of the range of health benefits and lack of negative side effects. CBD could offer a new alternative to treat physical and mental health problems and gain popularity.
CBD capsules are attractive because of the range of health benefits and lack of negative side effects.
How to choose between CBD oil and CBD capsules
First, start by assessing why you want to take CBD. Why are you interested in incorporating CBD into your lifestyle? If you are aiming to incorporate CBD over the long term in a way that doesn't require anticipation or precise measurement or need something portable, a capsule may be an excellent choice.
As mentioned earlier, it is important to consult a doctor or health care professional before stopping or starting any new medications including supplements. Although CBD capsules are extremely popular, CBD comes in a variety of other forms including topical creams, patches, sprays, vapes and edibles. Therefore, there is a wide range to try in order to find the CBD product that suits you best.