Making CBD Oil at Home
Before you embark on the adventure of making your own CBD oil, you need to be aware of the pros and cons of doing so. This will allow you to determine if it is worthwhile to try it or if just buying ready-made CBD oil is enough for your consumption.
The benefits of making CBD oil at home
First of all, by making your CBD oil yourself, you will have the opportunity to choose the hemp plant from which your oil will be derived. This will allow you to choose your favorite CBD flower, which has the properties you need and want to get the therapeutic and relaxing benefits from.
Then, you will undoubtedly save a lot of money. Some CBD brands sell their CBD oils at quite high prices, especially when their manufacturing process is expensive or the plant is considered high-end. By making your own CBD oil, you are guaranteed to pay 3-4 times less. Plus, your labor is free!
Finally, by making your CBD oil, you'll have the opportunity to take advantage of the full spectrum CBD entourage effect. Indeed, with the home method, the CBD oil will give you the benefit of quality CBD and all the other very beneficial compounds of the cannabis plant, such as other cannabinoids or terpenes. This is a great advantage because if you choose your hemp plant well, with the properties you want, the surrounding effect of your CBD oil will be exactly what you need. An almost unique product tailored to you.
Another benefit of making your CBD oil is that you can add additional flavors to it. New chemists rarely get into this, but once you get the hang of it, you can actually add flavors that you like. This will make your oil more enjoyable to consume and even more personalized!
The drawbacks of making CBD oil at home
If you're sensitive to THC or do not want to consume THC, the psychoactive molecule in CBD, making your CBD oil may not be a good idea. This is because when you make it, you will not have the ability to filter out the cannabinoids that will be part of the final oil. However, to alleviate this problem, it is possible to choose a hemp plant with very low or no THC content.
By making your CBD oil at home, you will not have the ability to measure the CBD potency in your oil. This one will be of a random intensity, which can be troublesome if you want an oil low in potency or, on the contrary, strong. The advantage of buying CBD oil in the shops is choosing its strength, from 5% to 30%.
Now that you are informed about the advantages and disadvantages of making your CBD oil, here is the recipe you need to prepare by yourself at home with your hemp.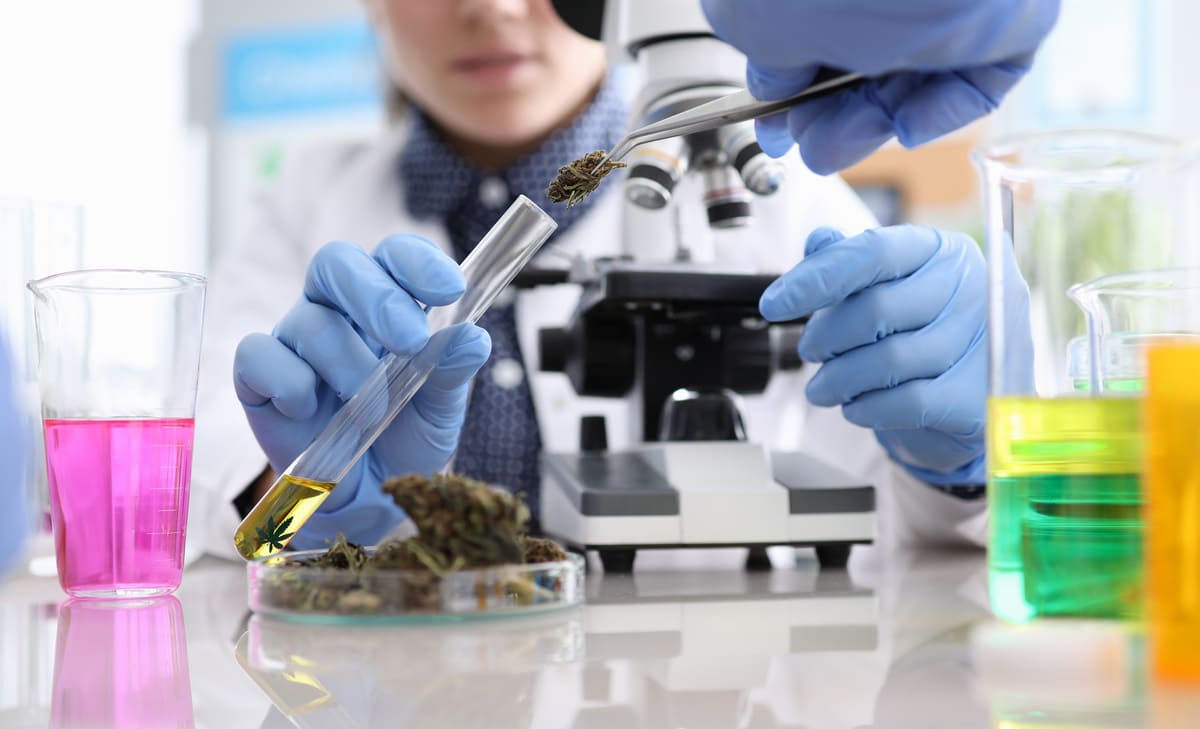 What Do You Need to Make CBD at Home?
To make your own CBD oil, you'll need this list of ingredients and utensils:
A thick glass jar.

An oven

A hot plate

Parchment paper

A cheesecloth (a filter cloth)

High purity alcohol (resistant food alcohol, for example)

From hemp flower

Of something to grind your hemp flower

A suitable container for your final product (e.g., a bottle with a pipette)
You will need to decide how much hemp flower and alcohol to use. This amount will depend on the plant you use, your tolerance level, and how potent you want your CBD oil to be. Making your oil may require some experimentation to determine the right amount to use for your type of use.
Some Tips Before You Start
Select quality hemp to make your oil

Be thorough in your process

Don't hesitate to add flavorings to enhance the taste of your CBD oil (mint, vanilla or other)

Choose a good quality carrier oil
Easy 4-Step Method to Make CBD Oil at Home:
Step 1: First, you're going to need to grind the hemp flowers you've chosen so that they are as fine as possible.
Step 2: Once the flowers are ground, spread them on a baking sheet protected by a parchment sheet. Bake at 120°C, between 30 and 50 minutes. This is called decarboxylation and is necessary to convert CBDA to CBD. Allow cooling before moving on to the next step.
Step 3: Fill your jar with high-purity alcohol. Place your CBD flowers in the mixture and immerse them completely for 10 minutes. Stir from time to time. The alcohol will then extract compounds such as cannabinoids and terpenes from the plant.
It is ideal to leave this mixture in a dark place for 2 to 3 weeks to allow the extraction to occur fully. If you are in a hurry, you can reduce this period to a few days but will not get all the benefits of the plant in your oil.
The best way to do this is to leave the oil in a dark place for a few days.
Step 4: Use a cheesecloth to strain the mixture into a flask, bottle or jar. That's it; it's done! Store your oil in a cool, dark place and mix it well before using. Before using your tincture for the first time, test its potency by taking a drop or two.
Homemade CBD oil can be stored between 6 months and 1 year if you follow the conditions cited in our article How to Store Your CBD Oil.
If you think the process is too tedious and prefer CBD oil with a clearer potency and cannabinoid composition, feel free to check out our online 321 CBD shop. We offer high-quality CBD oils, which are tested and monitored for safety.