Cultivated for years for its environmentally friendly and quality fibre, hemp has recently become very popular as a source of CBD. This hemp derivative contains only a tiny amount of THC (0.2%) and therefore has no psychoactive effects. It is for its therapeutic benefits, both physical and moral, that cannabidiol is appreciated. It can be consumed through oils, infusions, cakes, and even confectionery! However, bioavailability is largely reduced by the oral route.
- Better availability for more effectiveness
Vaping or vaping is the preferred method of consumption for its effectiveness and convenience, compared to edible capsules or topicals. In fact, inhalation in turn improves the bioavailability of CBD and therefore makes it more assimilable for our body. Thus, if you want to benefit from the wide range of therapeutic properties of CBD on physical or moral disorders, such as pain relief, relaxation, comfort, anxiety, mood enhancement etc., it is better to vapourise. When vaping, you will feel the effects much faster than using a tincture of CBD oil, oral or edible products.
When you vape using an electronic cigarette, you need a smaller amount of CBD than if when you consume it in another form. And yes, as most cannabinoids are not burnt, you won't need to consume as much to enjoy the effects of CBD.For example, creams to be applied to the body or face have a purely localised effect, which is why they are best used for targeted pain or issues, such as eczema or sunburn. This also means that by choosing to vape your CBD, you will save money. Consume less for more effects, who says better?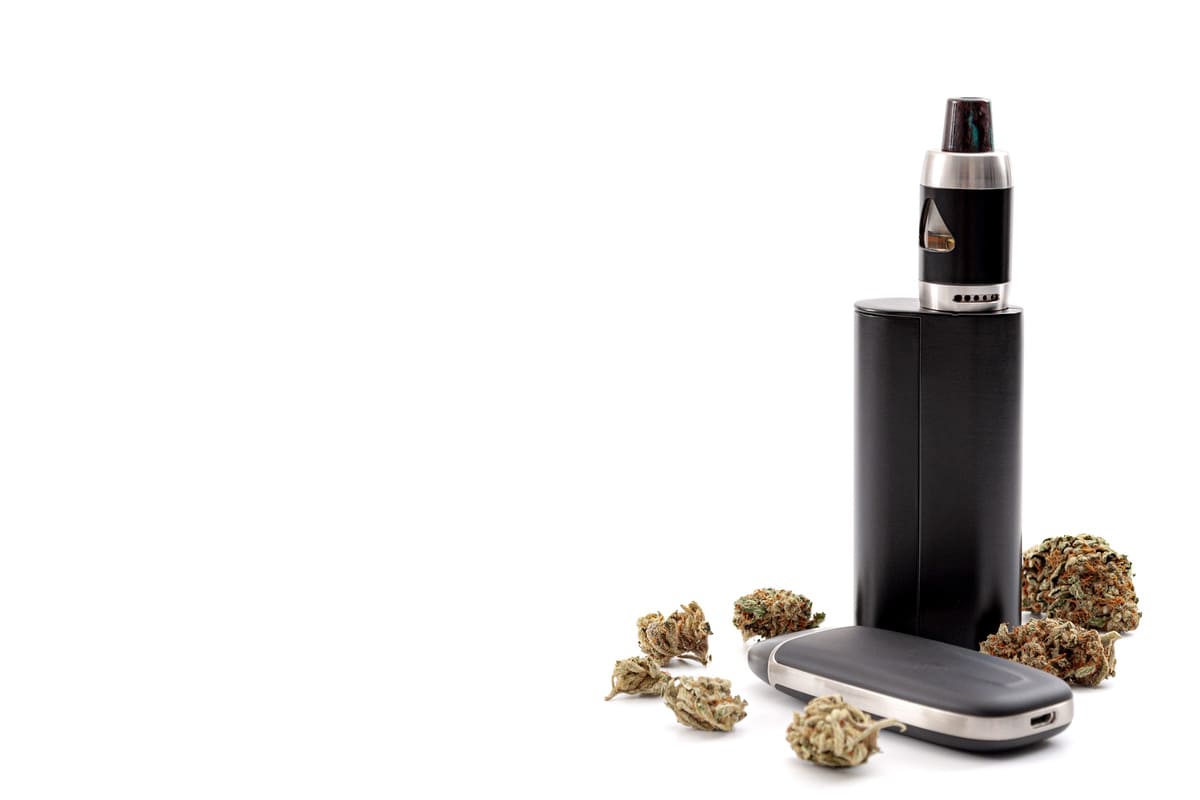 - Convenience
Then vaping is more convenient than smoking or carrying oral products with you. Vaping can be done anywhere and at any time, or almost. All you need to do is carry your electronic cigarette with you.
.
- Speed of action
In addition to being a cost-effective means of consumption in every respect, vape is known for allowing the user to feel the initial effects quickly. When ingesting CBD, you'll have to wait until you've digested before you can experience any effects. The action of CBD when vaped is almost immediate, compared to an hour for CBD absorbed through the digestive tract.
- Not harmful to health
Smoking is harmful in itself, even if it is CBD. A very hot smoke reaches the lungs and then both chemical and toxic compounds from the combustion are inhaled. With the electronic cigarette, the inhaled vapor is at a lower temperature and no chemical compounds are inhaled.
Also, instead of burning almost all of the cannabinoids, vaping CBD preserves them so they can be inhaled. According to studies, some of these cannabinoids are actually potentially good for skin and hair vitality, unlike smoking, which is harmful.
- To fight against tobacco and cigarette addiction
In case of nicotine addiction, CBD e-liquids can be of great help. Cannabidiol actually has the ability to act as a palliative to lessen and soothe the craving smokers feel when they quit smoking. On top of that, replicating the gesture with an e-cig gives vapers all the more incentive to give up traditional cigarettes.
- To stop smoking cannabis
In the same way that vaping CBD can be a real crutch for quitting cigarettes, it can be for cannabis smokers. Far from leading to a high or stoned effect, as THC-filled joints do, CBD e-liquids will give you a pleasant feeling of well-being and deep relaxation. You'll stay in control and keep everything under control, while calming your mind.
Unlike THC-containing products, CBD is completely legal and not only is it non-addictive, but it can also help you cut down on your cannabis consumption, to wean yourself off and get rid of your addictions. CBD e-liquids now come in a variety of flavours, giving you the opportunity to never get bored of testing new flavours until you find your favourite ones. As part of a transition from smoker to non-smoker, after quitting smoking or in the discovery phase, you can buy vaping juices that replicate either tobacco or hemp flavours.
- Temperature control
With an e-cigarette, you will be able to manage the temperatures at which you want to vapour yourself. Let's not forget that low temperatures are what will allow vaping to be effective and enjoyable. Most electronic cigarettes these days have a system for adjusting the temperature as well as the airflow of the vapes. A la carte consumption, in short!
- Original tastes and pleasant smells to experience
How could you not choose the solution that, in addition to being better for your health, lets you enjoy extraordinary tastes and aromas? Whether through e-liquids or a vaporizer with CBD heads, you fully experience the taste of what is consumed, without being polluted by unwanted odours.E-liquids are made from terpenes - hydrocarbons directly extracted from plant resins - and you can find CBD e-liquids without terpenes, for a very similar taste to traditional e-liquids.
Finally, vaping CBD is more discreet and socially acceptable. You'll make less smoke and it will be especially less odorous, without the risk of impregnating furniture, skin, hair or textiles. The exhaled vapour does not have the smell of hemp. Besides a few discreet aromatic notes released into the air, no one will be able to guess that you're vaping CBD, even when they're near you.