CBD-infused chilli and pomegranate guacamole toast
Let's go to Mexico and its most popular culinary specialties, such as guacamole but in a sweet and sour version. The most popular condiment and used in almost every dish, both as a side dish and in a main course, guacamole comes in various versions. From the hottest to the mildest, the main ingredient is always the avocado. The little plus: it will be perfectly suitable for vegetarian, vegan and gluten-free diets. Arriba!
3 avocados
1 tablespoon lime juice
½ teaspoon of pink Himalayan salt
½ teaspoon cumin powder
¼ teaspoon ground cayenne pepper
½ medium onion
1 large clove of garlic
1 tablespoon of fresh coriander
½ of japaleno peppers
1ml CBD oil
1 large or two medium-sized pomegranates
Choose three ripe but not black avocados either. Cut them in half and remove the stone. Peel them and crush them with a fork or in a mortar with a pestle. Then peel and seed the tomatoes, before dicing them and placing them in the bowl of your blender.
Fine chop the japaleno pepper and mince the garlic clove, which you will then add to the avocados and tomatoes. Also add the lime, salt, pepper, cumin and onions, which you will have chopped into small pieces, as well as the coriander.
Toss the mixture into the bowl.
Top it all off with your favourite CBD oil and blend. Then cover with a lid or cling film and keep the resulting mixture at room temperature for about two hours.
Prepare and seed the pomegranate. There is a quick and easy way to do this... After cutting and opening the pomegranate, put it in a bowl of water. This will prevent you from staining yourself and will allow you to separate the seeds from the skin. The latter will tend to float to the surface while the seeds will remain at the bottom.
Simply remove the seeds with your fingers, dipped in water, and then wring them out by pouring the contents of the bowl into a colander or get an emuncter. Set the seeds aside in a cool place.
Gather everything together once the two hours of resting time for the guacamole has passed. Spread slices of the bread of your choice that you have previously toasted. Sprinkle with pomegranate seeds. Enjoy!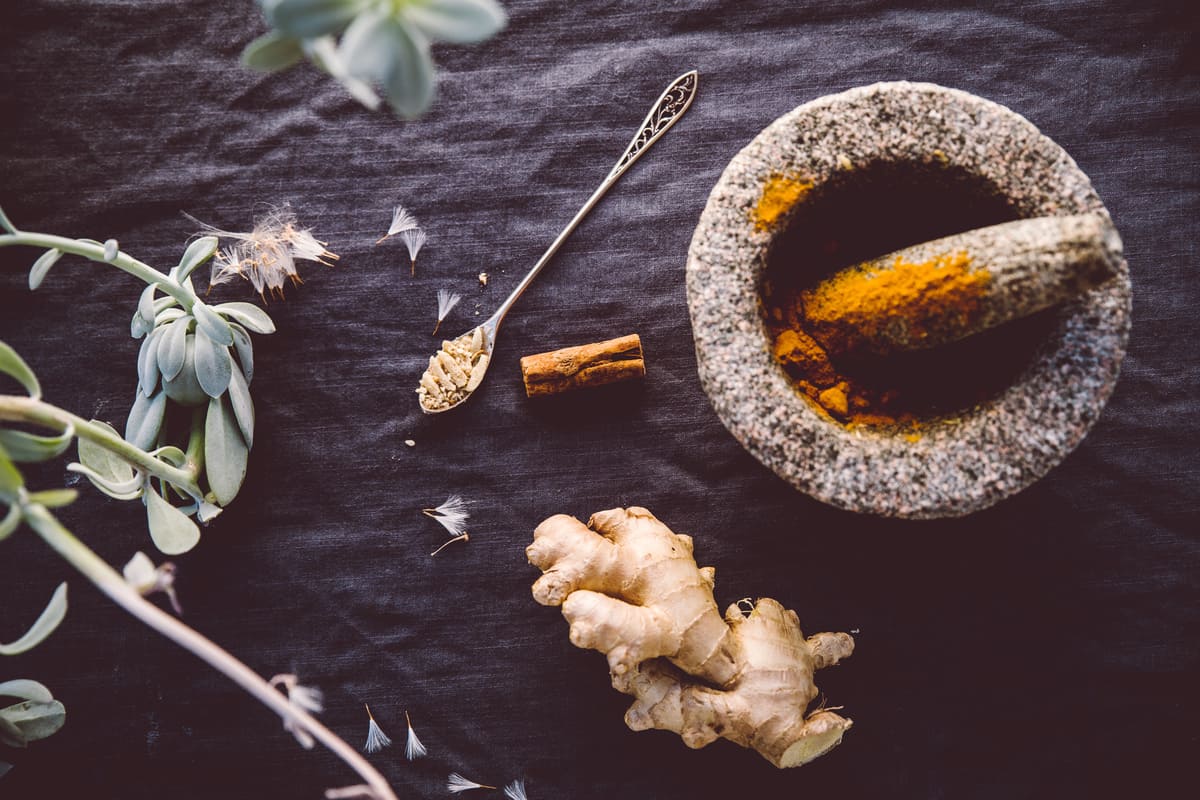 Compound salad with watermelon, melon, feta and CBD dressing
How could you not succumb to the sweet summer flavors of watermelon and melon? This delicious and effortless recipe is ideal for hot weather when you're always thirsty, as it's packed with fresh, water-packed fruits and vegetables.
¼ cup of ripe, sweet, seedless watermelon
1 melon
150g of plain feta cheese
½ cucumber
about 20 pitted black olives
Mint leaves
4 tablespoons of olive oil
2 tablespoons of balsamic vinaigrette with honey and CBD
pepper
Step 1: For the honey and CBD balsamic vinaigrette
¼ cup of honey
½ cup balsamic vinegar
¼ cup of virgin olive oil
0.30 grams of 99% pure CBD isolate powder
Salt and pepper
Whip the balsamic vinegar, olive oil and honey with the isolate powder to blend well. Season with salt and pepper to taste.
First peel the watermelon and cut it into medium-sized cubes. Similarly, peel the melon, remove the seeds and cut it into pieces equivalent to the watermelon. Then peel the cucumber and remove the middle part, before cutting half of it into small pieces.
.
Then add the olives and the feta cheese, also cut into small pieces.
Stir in the olive oil and balsamic vinaigrette. Season with pepper. Decorate with a few mint leaves. Enjoy!
Thai Green Curry Chicken with CBD (or Green Curry with CBD)
The powerful flavours of the herbs and spices in curry dishes are enough to cover the taste of CBD that some people don't like, without covering it completely.
2 chicken fillets
1 clove of garlic
1 white onion
15 cl chicken stock
10 cl of coconut milk
2 tablespoons green curry paste
2 tablespoons of CBD butter
2 teaspoons salted soy sauce
1 handful of roasted hemp seeds
1 carrot
3 grams of CBD (heads)
1 lime
Coriander
Basmati rice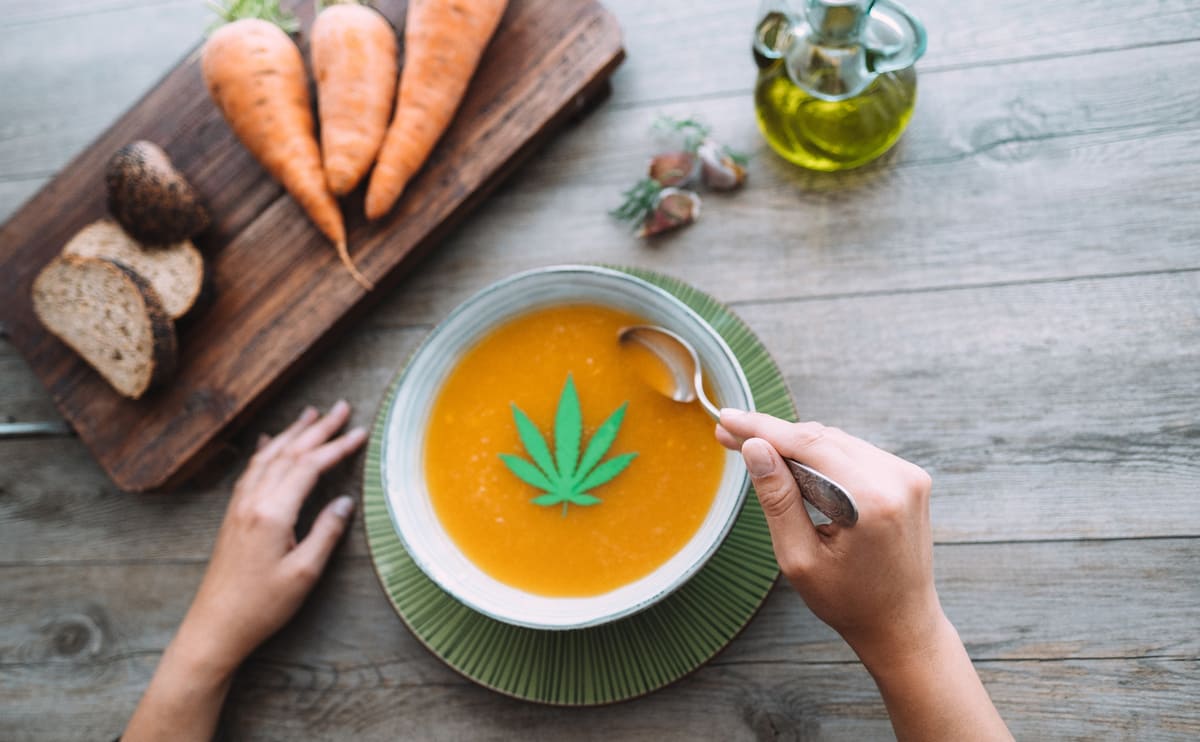 Little plus: for the green curry paste, at the supermarket you can find it in a semi-prepared version directly imported from Thailand or else dehydrated in powder form.
.
Blanch the chopped carrots in boiling water for about 3 minutes. Set aside.
In a wok, pour in the CBD butter and fry the chopped garlic and onion until caramelised. Once these are coloured, add the chicken, which you will have cut into small pieces, then the chicken stock, the salted soy sauce and finally the coconut milk.
Bring to a boil then put a lid on and simmer for about ten minutes. Keep an eye on it so it doesn't burn. Add the carrots and the grinded herb. Stir and pour into a dish.
Sprinkle with lime zest and hemp seeds and sprinkle with fresh coriander. Serve with rice. It's ready, enjoy!

Variant: you can also infuse CBD in coconut milk or coconut oil. The latter lends itself very well to dishes from Indian and Thai cuisine. By cooking the curry for a long time on low heat with CBD oil or butter, you will ensure that the flavours are perfectly distributed.