What are the benefits of CBD in beauty products?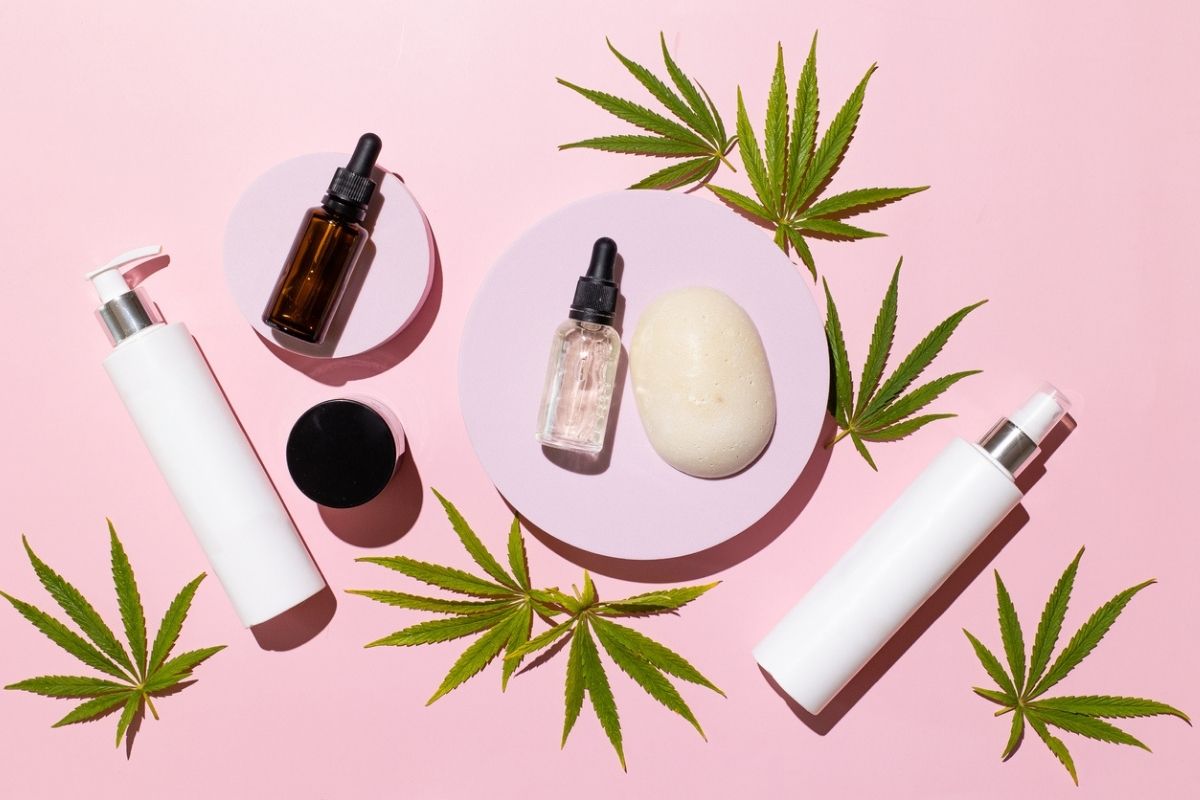 CBD is derived directly from the organic part of the hemp plant, so it is an all-natural ingredient. In beauty products, it can be found in the form of oil or leaf extracts. CBD oil must be differentiated from hemp oil, which does not contain any cannabinoids. The latter are the active ingredients that provide all the positive effects to our body when using this type of product. Moreover, it is possible to use CBD oil directly or a product combining several ingredients.
The rise of CBD in general has turned the market upside down, and this is also the case in the cosmetic industry. Indeed, it has become a very fashionable natural ingredient for brands wishing to develop natural, healthy and environmentally friendly ranges. Beyond the fashion effect, CBD is a really effective active ingredient for certain problems. Alone, CBD oil nourishes, protects and soothes the skin and hair. Whereas when combined with other ingredients or CBD in the form of extracts, even more powerful products can be made.
How to create a bespoke beauty routine with CBD
CBD comes in multiple products allowing you to create a daily routine tailored to your needs. Thanks to its many properties, CBD can improve the quality of your skin and hair. It can be incorporated into any stage of your routine and is suitable for all skin and hair types. Plus, you don't have to use CBD-enriched beauty products exclusively to get all its benefits.
Keep your face hydrated by using a CBD serum
Using a serum helps to seal in the skin's moisture. It can be oily or watery depending on the ingredients it contains. When it is oily, it usually contains a synergy of oils to combine properties including CBD oil. When it is aqueous, it usually contains aloe vera. This is a moisturising and regenerating plant active ingredient that is often combined in cosmetics. To both can also be added hemp leaf extract for an intensified CBD effect.
The serum is used in the morning or evening after cream to seal in your skin's moisture by creating a natural barrier. It also helps to nourish your skin, protect it from external elements and restore radiance. When it contains CBD, a serum will also have an anti-inflammatory effect that calms redness. You can apply it in small amounts and massage it into your face, neck and bust to help it penetrate.
Getting glowing skin with a CBD mask
For a deeper treatment, you can use a CBD-enriched mask. Richer than a cream, a mask is more nourishing and can be applied on an ad hoc basis when you feel your skin is lacking in nutrition, light or elasticity. Masks are usually applied in a thick layer to let your skin absorb the optimal amount it needs. After leaving it on, you can massage your face to help it absorb the remaining product or remove the excess.
To take it a step further, you can scrub or exfoliate your skin before using a CBD mask. These two steps together will boost your skin, soften it and give it a glow. Depending on your needs and skin type, choose a more or less gentle scrub or exfoliator. By applying CBD mask afterwards, you will help your skin to soothe and regenerate naturally.
CBD cream to protect your skin from external aggressors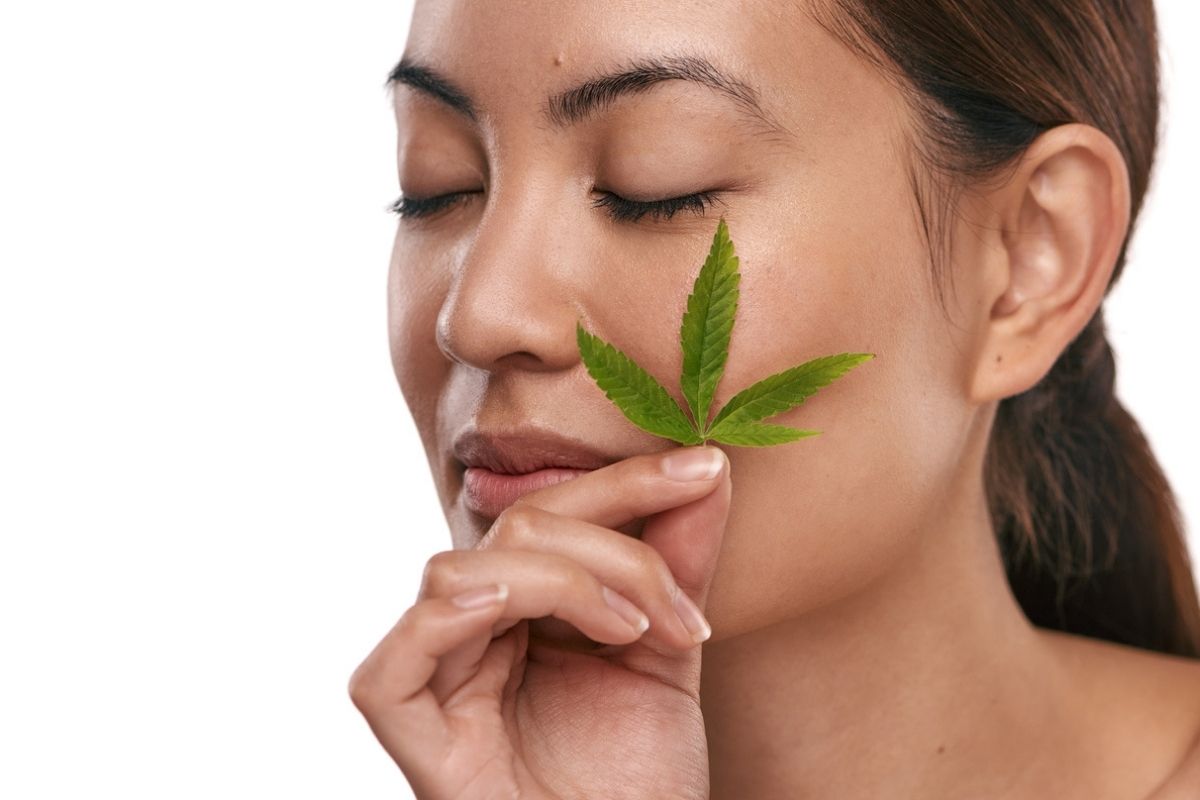 Your skin needs to be healthy to protect itself from the sun, cold and impurities in the air like pollution. If your face tends to get red, tight or blemished when you go outside, then the natural barrier that is supposed to protect it is no longer effective. To restore it, you can use a CBD night cream that will nourish and regenerate your skin during the night. When you wake up, you'll have a glowing face that's ready to face the outside world.
A night cream is applied to clean, dry skin before going to bed. To help it penetrate while removing accumulated toxins from your face, make circular motions as you apply it. The CBD in this type of product helps to soothe the skin, give it a boost and reduce dryness.
Nourish your hair with a CBD hair oil
CBD is also making its way into hair products. It can be contained in all basic products such as shampoos or masks, but especially in hair oils. These can be applied every day to tame your mane and make it shiny. If you struggle to have soft hair after washing it, then CBD hair oil will be your new favourite product!
The CBD included in a hair oil helps stimulate growth when applied to the scalp. So you can use it as a treatment by making an oil bath to apply to your entire hair including the scalp. On the lengths, CBD will strengthen the hair fibre and make your hair more resistant. In addition to making oily treatments, you can also apply hair oil with a little touch to bring shine to your hairstyles. It's also a way to protect them from the sun and outside elements.
Reduce blemishes and acne with CBD
The anti-inflammatory and antioxidant action of CBD makes it an ideal ingredient to include in blemish-fighting skincare. Both effects will soothe your skin, reduce redness and purify skin problems to make it more beautiful. With healthy skin, you'll have a better complexion and less discomfort. To get these benefits, CBD is added to an oil and sometimes other ingredients.
To use CBD to reduce blemishes on the face, neck and bust, you can apply enriched oil with gentle massages to help it penetrate. This type of product is suitable for all skin types, whether thin, sensitive, mature, oily or acne-prone. CBD is a natural active ingredient that will calm tightness and reduce skin problems.
With the right steps and products, CBD can become part of your routine to help you achieve more beautiful hair and healthy skin. It's an increasingly used ingredient, and for good reason, it works!