In France
In France, CBD is not yet democratised in all cities. However, the CBD restaurant concept is already established in some major cities. If you are lucky enough to have one near you, we can only recommend you to try these addresses, if only to live an unusual experience with friends.
Ardres, in the Pas-de-Calais
If you are from the North, we have an address for you: La Canna Café in Ardres, 47 place d'Armes. Located on the Opal Coast a few kilometres from Calais, this café is ideal for spending a convivial moment over tea or coffee and a sweet dish. The founders, Quentin and Alexandre, have set up this project around CBD so that you can enjoy relaxing moments with friends, but also receive valuable advice on their products.
As it is not a restaurant but a café, the menu is mainly composed of coffees, teas, fruit juices, hot chocolates and sweets. A warm and ideal place to discover new flavours and learn about the virtues of cannabidiol in a gentle way.
Lyon
In a completely different register, the people of Lyon are lucky enough to have a real CBD-based burger. It can be found at Bënnie Organic, 18 rue du Bât d'Argent. The dish highlighted by the restaurant is none other than a delicious crispy chicken and sweet potato burger, covered in a CBD-based pesto sauce. Unfortunately, this burger is only available for a limited time, so we advise you to contact them before making your reservation.
In Lyon, you can also find a tea room that offers hot drinks and CBD-based pastries in the 4th arrondissement, 18 rue du Mail. At CBioD, they offer teas, coffees or even CBD cookies. The ideal place to have a snack and relax!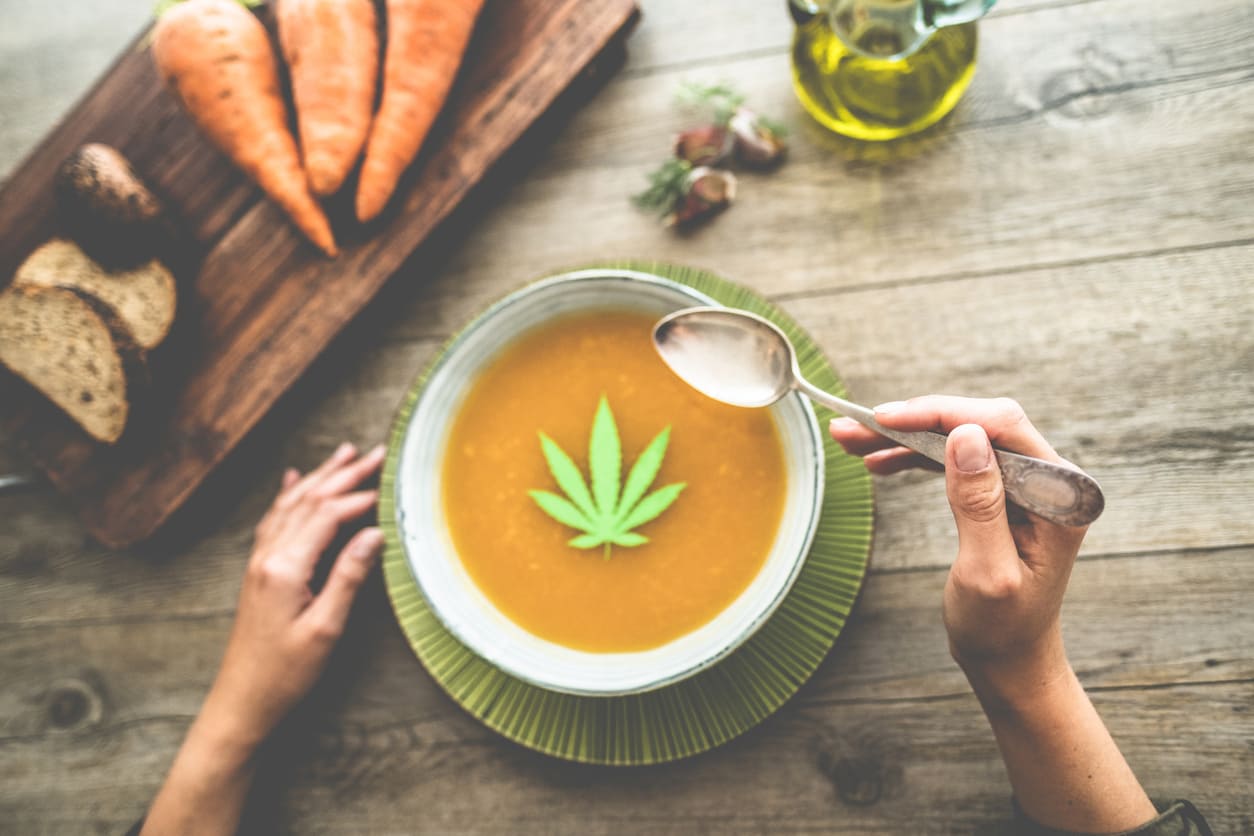 Marseille
In the south of France, you can find Happy's Kitchen restaurant in Marseille, which offers several CBD-based dishes on its menu. Inspired by their travels and the cuisine of the south, the owners of the place, Axel and Sandra, decided to put CBD in the spotlight in their restaurant.
Happy's Kitchen is located at 2 chemin rural de la Valbarelle in Marseille. In this original and innovative restaurant, you will find burgers, pizzas and other CBD-based dishes. To add a touch of humour to their concept and to avoid any confusion when ordering, all the names of the CBD-based dishes on the menu have a reference to a series such as Narcos, Breaking Bad or Family Business. But rest assured, CBD is completely legal and does not provide any psychoactive effects, as its THC content is always less than 0.2%.
Nice
Always in the south of France, we have unearthed for you an excellent address in Nice, 32 rue Borriglione. Indeed, Le Marie-Jeanne is the first French restaurant to offer a 100% CBD menu. Whether you're looking for savoury or sweet, you'll be served at this address, because all the dishes contain CBD, and the diversity of the dishes is quite incredible. There are burgers, smoked salmon, foie gras, chocolate mousses and even specialities from Nice.
Both refined and gourmet, Marie-Jeanne is an exceptional place to introduce your friends or family to CBD in an innovative way.
Paris
If you live in the capital, you will have the chance to discover Foodchéri, a home delivery company with a 100% CBD menu. You can find elaborate and gourmet dishes such as bowls, falafels, pesto pasta or CBD cookies.
If you live in the capital, you will be lucky to discover Foodchéri, a home delivery company with a 100% CBD menu.
If you are passing through, you can also stop for a CBD ice cream at Glazed, 54 rue des Martyrs in the 9th arrondissement. At this original ice cream parlour, CBD flowers are infused in milk and cream to give you the freshness of hemp when you taste it. There are also desserts such as a hazelnut ice cream log with CBD.
Poitiers
La Cuisine de Comptoir is a small restaurant located in Poitiers, 92 avenue du Plateau des Glières. The particularity of this restaurant is that you can ask for each burger on the menu to be enhanced with CBD oil, upon request.
Olivier Leclerc, the owner of the restaurant, has made an olive oil infused with CBD Orange Bud flowers in order to add a touch of originality and exoticism to your dishes, only if you want it. For the restaurant's chef, this CBD-infused olive oil offers an earthy flavor that is close to that of truffles. As a result, it's an extremely refined preparation that's likely to tingle your taste buds.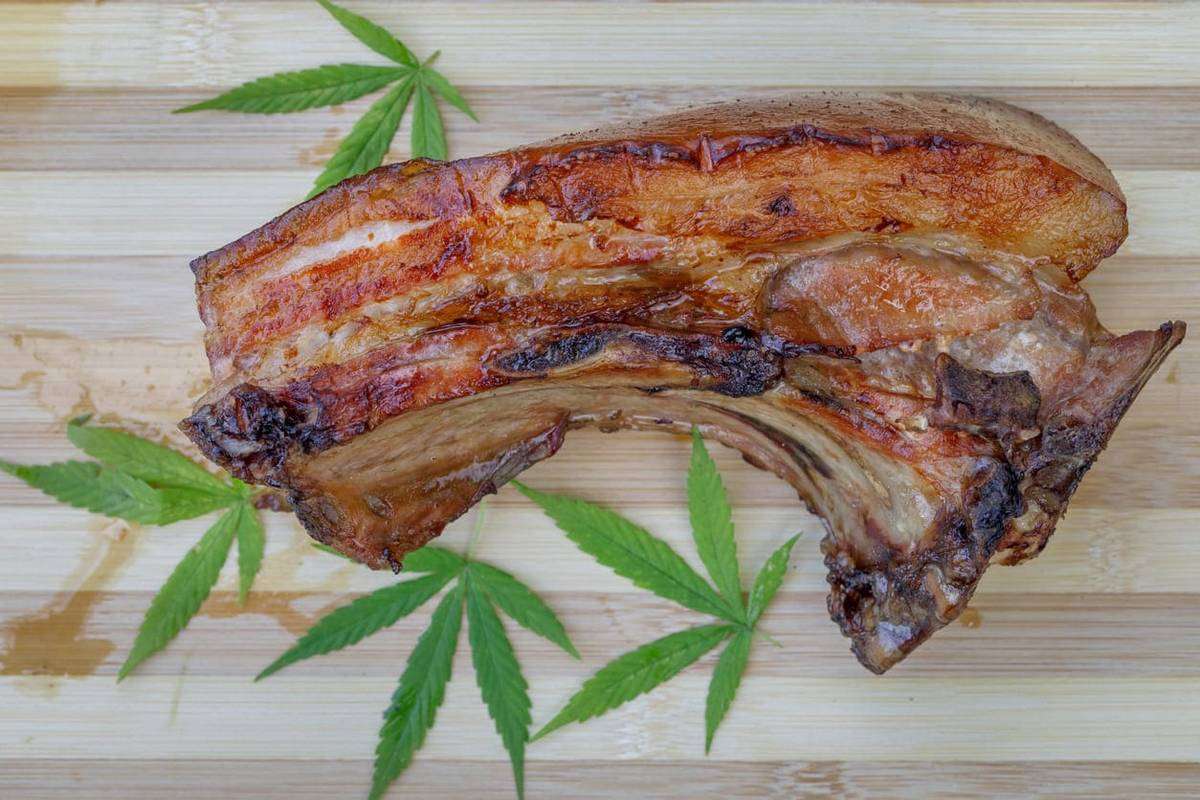 Clermont Ferrand
To finish the tour of France of restaurants where you can enjoy CBD dishes, head to Clermont Ferrand, 36 avenue des Paulines. At Pizza Maestro, they offer you a CBD-based pizza on the menu: the "Cibidi". Base fresh cream, mushrooms, raw ham and some CBD flowers sprinkled on your pizza; a simple and effective recipe that is unanimously appreciated.
Installed in the city for over 26 years, this pizzeria is known for its delicious traditional pizzas. Today, the pizzaiolo decides to innovate and sees CBD as a new aroma to flavor his pizzas, just like oregano or basil. If you like Italian food, you won't be disappointed with this CBD pizza.
Overseas
Netherlands
The Netherlands is well known for having a more open culture than France regarding cannabis. This is actually one of the reasons why French people go to Amsterdam, to discover cannabis in all its forms, but legally.
In the Netherlands, you will be able to taste in any coffee shop hemp-based pastries, more commonly called space cakes. Be careful though, as these contain THC and the psychoactive effects are quite present!
Canada
In Canada, cannabis culture is also more open than in France. In the city of Vancouver, you can find a restaurant that offers cannabis-based dishes. This is Mega ILL Pizzeria, where all the pizza doughs are made with cannabis-based oil. The restaurant also provides free vaporizers to customers so they can consume cannabis in a completely healthy way during their meal.
United States
California and Colorado are the U.S. states where cannabis is most widely democratized. In Denver, for example, you can eat at Ganja Gourmet, a restaurant that offers a multitude of cannabis-based dishes: pizzas, lasagnas, paellas and a wide range of desserts. All in a decor that refers to the 60s for an even more fun and atypical experience!