What is CBD, also called cannabidiol?
Cannabidiol is a substance extracted from hemp, just like CBG and THC. Authorized and completely legal in France, this molecule provides many therapeutic benefits.
On the other hand, CBD should not be confused with THC, which is the molecule considered a drug. It has indeed psychoactive virtues and generates a high risk of dependence. It is the fact that CBD is confused with THC (tetrahydrocannabinol) that gives it the wrong misrepresentation.
For a CBD product to be sold legally in France and meet the standards of European legislation, it must contain less than 0.2% THC.
CBD is consumed today for its many therapeutic benefits.
Why drink CBD drinks?
Stress is present in the lives of many of us. There are of course many ways to get rid of it, such as sport, meditation or nature.
However, consuming a drink containing CBD can reduce stress quickly and naturally. CBD in fact enters into a relationship with the endocannabinoid system of the human body and considerably reduces anxiety and stress.
CBD drinks work through the digestion process, during which CBD molecules pass through the bloodstream. The effects are therefore felt about 30 minutes after consumption, are very mild, and can last up to six hours.
If CBD oils seem too expensive for you, consuming CBD drinks is a cheaper alternative.
Good to know: CBD drinks do not have a very strong cannabidiol taste, because they are designed to appeal to the greatest number of people, and therefore contain other ingredients.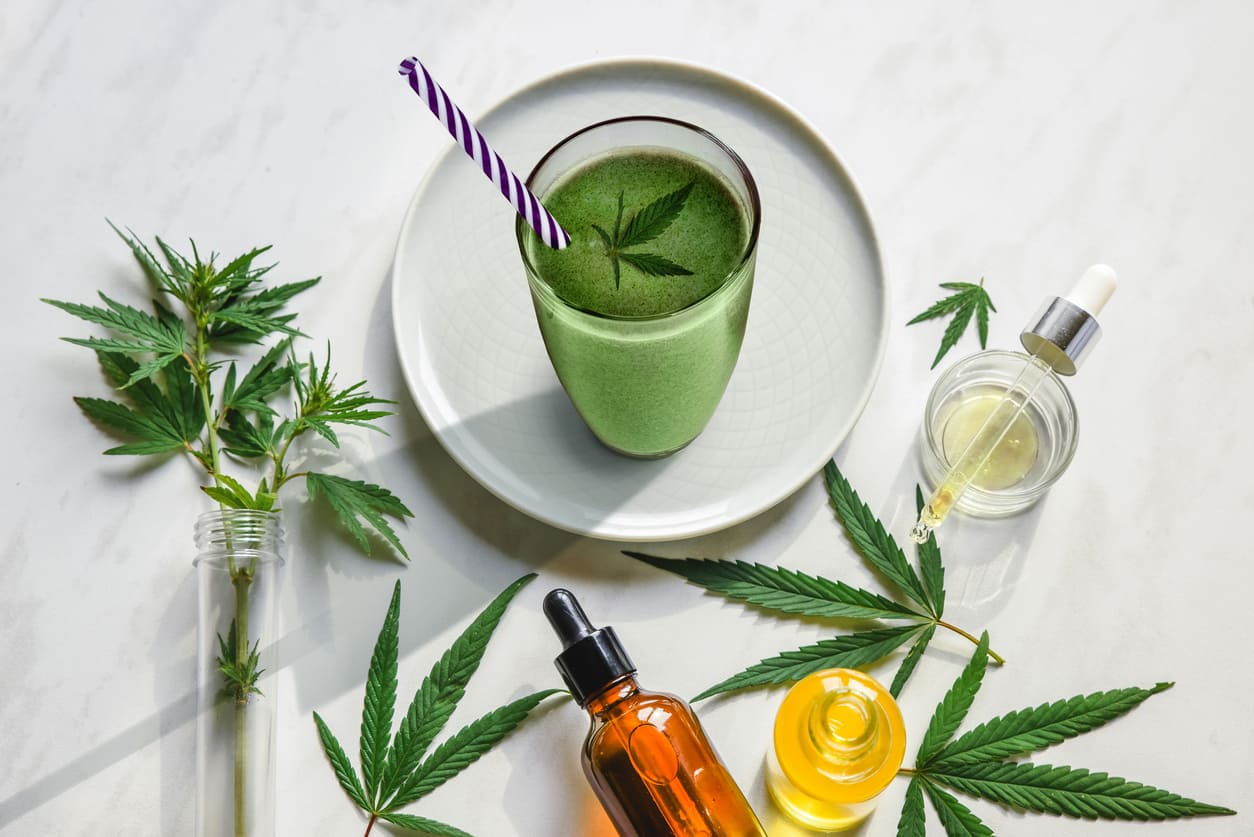 What are the benefits of CBD?
The cannabidiol molecule offers numerous benefits for well-being and physical and psychological health. Here is a non-exhaustive list of the benefits of CBD consumption:
Improved quality of sleep (fewer nightmares and nocturnal awakenings)

Decreased sleep time,

Notable reduction in stress and anxiety,

Reduction of physical pain,

Decrease in pain related to female cycles,

Reduction of inflammation of the stomach and intestines,

Etc
When to consume a CBD drink?
You can consume your CBD drink as soon as the need arises. These can indeed help reduce stress, relieve a headache or restore concentration.
It is therefore quite possible to consume these drinks during a working day. If you take them at night, they will help you relax after a hard day.
Finally, consumed one hour to thirty minutes before bedtime, CBD drinks can help you fall asleep more easily and get better nights sleep.
The different CBD drinks
Many CBD drinks can be found on the market, or you can make your own. Here are some examples.
CBD in mocktails
Concocting your own alcohol-free cocktail means allowing yourself to dare to mix things up, new ingredients and new flavors.
Adding CBD to an alcohol-free cocktail provides a range of additional flavors and scents. Plus, it's a great way to experience the soothing and relaxing benefits of CBD without realizing it.
CBD Sparkling Water
If you want to refresh yourself while de-stressing, sparkling waters that contain CBD are ideal.
They are best kept in the refrigerator and are eaten very fresh. You can also drink them in a glass by adding a few extra ice cubes.
Herbal teas and CBD infusions
CBD herbal teas can be bought directly from the store, but it is also easy to make them yourself.
To do this, buy CBD flowers and let them infuse for several minutes in boiling water.
CBD infusions are particularly recommended to reduce the effects of stress and to relax during the day or in the evening.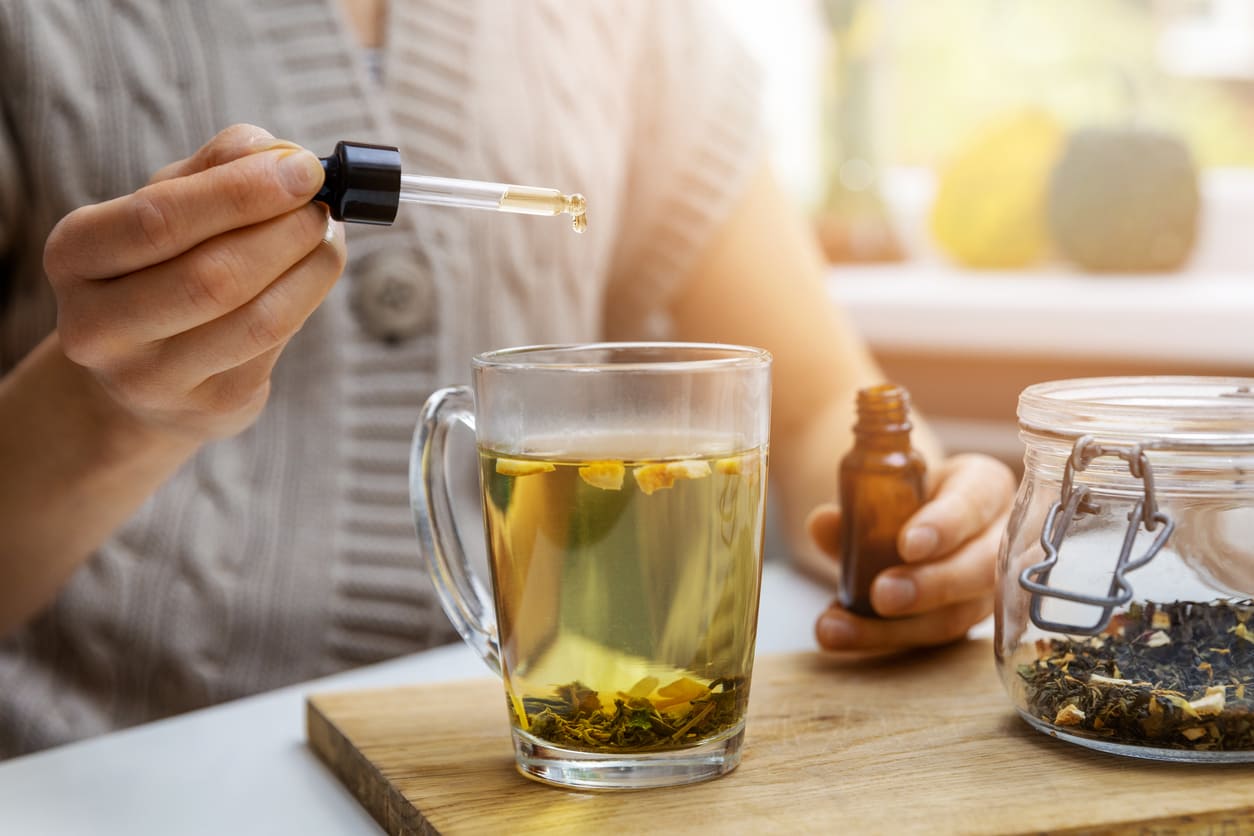 CBD beer
And yes, even alcohol is involved! There are CBD beer brands today. The hemp extracts added to the preparation provide a slight additional taste.
Of course, CBD beers should be consumed in moderation.
CBD Milk
This DIY recipe is inspired by "Golden Milk", an Ayurvedic drink made with turmeric. Here is the recipe for CBD milk, often called "Moon Milk".
In a saucepan, boil vegetable milk (we recommend almond milk, oat milk or macadamia milk) adding equal doses of honey, turmeric, cinnamon, ginseng and coconut oil.
Mix well, then add about 10 drops of CBD oil. You can taste the Moon Milk directly or let it cool for a few moments.
CBD Syrup
CBD syrups seem concentrated, but actually offer the same amount of cannabidiol as an oil.
Syrup is ideal for mixing into a drink, whether it's water, sparkling water or herbal tea. Of course, the syrups are designed to be bioavailable to the maximum.
CBD Coffee
It may seem surprising, but it is possible to drink coffee with CBD in it.
This amazing blend actually makes more sense than it sounds: CBD helps retain the invigorating effects of coffee by removing side effects like physical restlessness.
To consume CBD coffee, you can either buy CBD-infused coffee beans or simply add a few drops of CBD oil to your morning coffee.
CBD smoothies
Smoothies can contain many fruits, vegetables, seeds and plants. It is therefore quite conceivable to add cannabidiol to it.
Smoothies that contain CBD make it easy to unwind while enjoying a delicious drink perfect for summer.
Finally: CBD gin and tonic recipe
Here is a delicious cocktail recipe to inspire you toadd CBD to your preparations.
In a glass, pour tonic and top up with lime juice in a proportion of a quarter. Add ice cubes or crushed ice, then add CBD.
For this, you can use CBD oil, which will remain on the surface because it is fat-soluble, or a CBD tincture.
Do not hesitate to add edible flowers to make your cocktail more attractive and delight your guests in addition to relaxing them.