Fortunately, there is a less restrictive solution than taking sleeping pills: CBD (cannabidiol). Indeed, consuming CBD before going to sleep is a very effective natural alternative to help you fall asleep and improve the quality of your sleep.
So, if you suffer from insomnia and really struggle to fall asleep every night, CBD may be the solution that will revolutionize your nights and allow you to have sweet dreams. Moreover, it is a natural molecule that, unlike drug treatments, does not cause addiction or side effects. You are probably wondering: How to sleep well with CBD? What are the long-term benefits and how to consume CBD? In this article, you will find all the answers to your questions about taking CBD before sleeping.

The benefits of CBD on sleep
Sleep faster
First of all, taking CBD has soothing and anti-inflammatory properties that help you fall asleep faster. In fact, CBD helps reduce stress, relaxes muscles and relieves physical pain, which simply makes you feel better and find sleep more easily. By calming the nervous system, CBD also prevents the breakdown of neurotransmitters responsible for cognition, emotional state and pain. As a result, CBD promotes the production of melatonin, the hormone that regulates chronobiological rhythms and therefore promotes sleep.
Sleep longer
Secondly, consuming CBD before going to bed allows you to sleep better and longer. In other words, CBD regulates the REM sleep phases. These phases allow for a more restful sleep, fight against sleep apnea and promotes dreams. In the end, CBD is a natural cannabinoid that offers a deeper and more relaxing sleep from the first intake. All this, without any side effects, where conventional drugs tend to cause episodes of involuntary drowsiness, a sleep that is not necessarily restorative and especially, a strong addiction.
The mode of action of CBD on your brain
All living things have an endocannabinoid system (ECS), a system that naturally secretes molecules similar to those found in cannabis plants. Thus, CBD is a cannabinoid that interacts directly with your ECS, and primarily with the CB1 and CB2 receptors. By doing so, CBD plays a key role in the circadian rhythm, also known as the sleep-wake system. In other words, CBD is as beneficial to the body during the day as it is at night. Unlike a sleeping pill, it doesn't just have a sedative effect, but rather a regulatory effect.
In addition, CBD promotes muscle relaxation, relieves physical pain and reduces mental tension, other factors that contribute to improved sleep quality. It also helps to reduce anxiety problems that are often the cause of insomnia. In addition to all these benefits, CBD does not cause side effects such as uncomfortable and painful awakenings, which is unfortunately often the case with drug treatments. In the end, CBD allows you to sleep better because it :
interacts with the endocannabinoid system ;
regulates the circadian cycle;
relaxes the body;
calms the mind;
reduces stress and anxiety.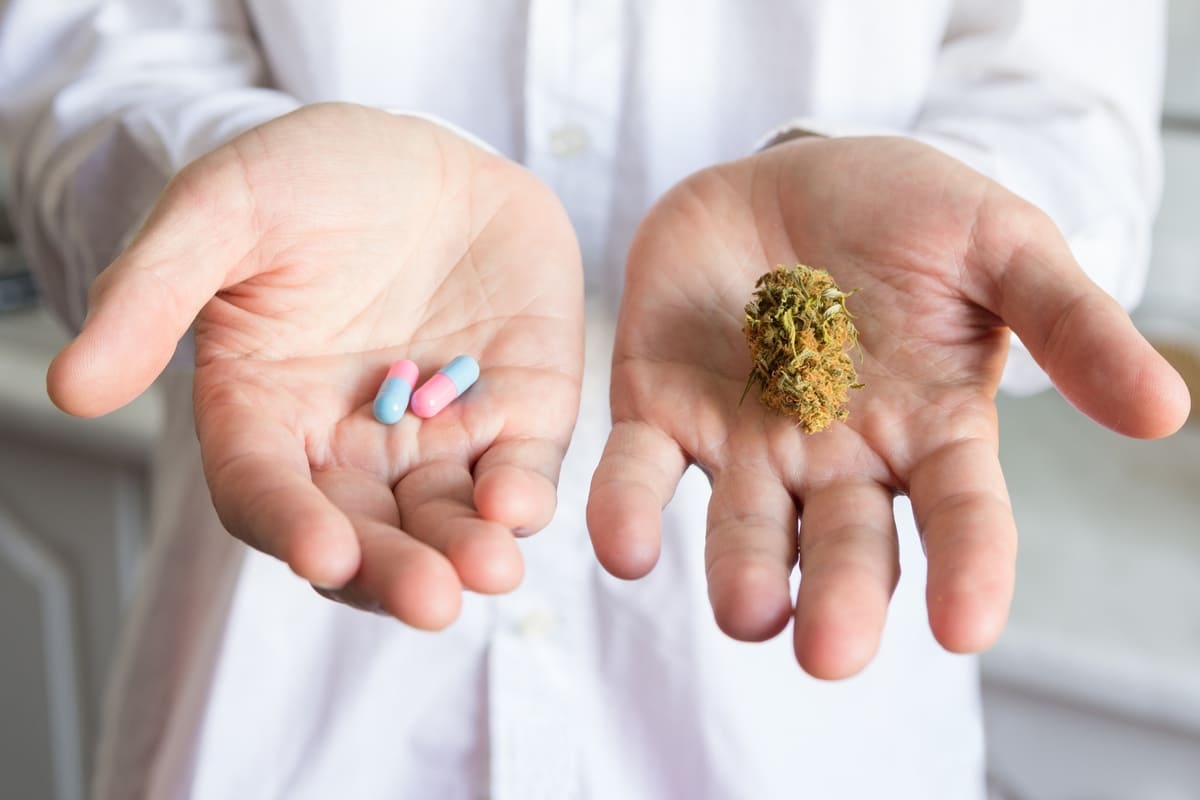 What dosage and what form of CBD to choose before sleeping?
The advantage of CBD is that there is no risk of overdosing unlike drugs. According to scientific studies conducted on taking CBD before sleeping, it seems more sensible to take a high dose over a short period of time, rather than a light dose over a long period of time. This is not to say that taking CBD long term could be harmful to your health, just that it is most effective over a short period of a few weeks to a few months. See it as a food supplement or a vitamin cure, and not as a drug to take for life.
Regarding the mode of administration, it is above all a choice to be made according to your personal preferences. CBD oil, flower or resin? Infusion or vaporizer? You even have the embarrassment of choice in terms of flavors and percentage of CBD. Moreover, the effectiveness of CBD will not be altered by the way it is consumed or by its form. On the one hand, vaping is ideal for instant effects as it allows for faster assimilation of the cannabinoids. On the other hand, edibles and oils release the cannabinoids more slowly, so the effects come later but stay longer.
CBD infusion: the natural ally of your sleep
Infusion has always been the favorite food process for well-being enthusiasts who want to take advantage of the active ingredients and organic flavors of plants.
Tasty and easy to prepare, the CBD infusion is the natural ally of your sleep, insofar as it combines the comforting side of the infusion with the analgesic, anti-inflammatory and soothing effects of cannabidiol.
CBD infusion simply consists of dissolving hemp leaves and/or flowers in a hot liquid, usually water or animal or vegetable milk. If you are not necessarily familiar with the raw taste of CBD flowers, you can add other relaxing plants to your infusion. Here is an exquisite recipe for a tasty infusion that will immerse you in the arms of Morpheus:
Boil some water, then pour into a cup;

Finely chop half a gram of CBD flowers and add to hot water;

Add a tablespoon of chamomile;

Add a teaspoon of lavender;

Infuse 5-10 minutes.
Note: Drink your tea at least two hours before bedtime. Indeed, depending on the organism, cannabidiol needs one to two hours to reach the liver and be metabolized. Avoid heavy meals in the evening to accelerate the assimilation of the soothing effects of the CBD infusion.
Can CBD before sleeping cause side effects?
No, CBD is a natural molecule that does not cause side effects or addiction. Moreover, there is no risk of overdosing. It is for this reason that most people suffering from sleep disorders prefer CBD to drug treatments such as sleeping pills. And yet, many of these addictive drug treatments are available over the counter in pharmacies.
Can CBD permanently cure sleep disorders?
Currently, CBD is not considered a drug but a dietary supplement. Thus, it is not intended to cure diseases. On the other hand, it can relieve and reduce the symptoms of certain disorders, such as sleep disorders. This is why it is important and necessary to consult a health professional to find an adequate solution to your problem, especially if you have been suffering from it for a long time.
CBD for sleep: opinions of our customers on improving their sleep
Enough theory. Now is the time to give the floor to our dear customers who have tested CBD to improve their sleep cycle, whether in quality or quantity.
Candy Jolly, a loyal customer of our online store, highlights the importance of experimenting with different varieties of CBD until we find the reference that best suits our physiological needs, intensity of our insomnia and our metabolism.
"I will describe how I felt: I found CBD flower Gorilla Queen not bad, but it did not give me satisfaction on sleep, despite pleasant relaxation. I tasted the AC DC CBD flower which has a very good smell, quite intoxicating, but again, I was not completely satisfied to relieve my aches and my lack of sleep. And it was the Ringo Gift CBD flower that gave me satisfaction, both to relieve my body aches and my lack of sleep ".
Sandrine Bonnet preferred a safe bet to relieve her insomnia: sublingual CBD oil for a quick effect. "I bought some CBD oil…over the top! I got my sleep back".
For her part, Clara Bordin reminds us that CBD can also promote sleep thanks to its analgesic or painkiller effect, including on chronic pain such as back pain, unfortunately very common in sedentary age. "Order received promptly. It soothes my back pain well and therefore promotes my sleep ".
For Liliane, CBD is a real catalyst for sleep and an effective painkiller, even if the taste does not suit her (yet). As we explained to you above, if you consume your CBD in infusion, do not hesitate to mix it with other plants with more flattering flavors for your palate. "Big improvement in my sleep, my nights are no longer interrupted by waking up phases due to pain in my lumbar spine. I finally spend nights of 8 hours, and muscle relaxation is there, without side effects. Enjoyable!".