What is hemp seed oil?
Hemp oil, also known as hemp seed oil, is becoming a star ingredient in natural and mainstream cosmetics. Not to be confused with CBD or marijuana oil, hemp seed oil is derived from the seeds of the Cannabis sativa plant, which contain various cannabinoids including THC in very small amounts, always less than 0.2%.
As a result, hemp oil does not induce any narcotic effects and is currently used in a wide range of applications - from skin care to cooking, to maintaining general health and wellness.
Packed with nourishing lipids, vitamins, minerals and antioxidants, hemp oil has now earned a well-deserved place in many beauty routines as well as cosmetic and personal care products. It is best known for having high levels of polyunsaturated fatty acids such as gamma-linolenic acid (omega-6) and alpha-linolenic acid (omega-3) which are perfectly balanced, giving rise to exceptional moisturising and anti-inflammatory properties.
In addition to its beautifying and anti-aging uses, hemp oil has also built a reputation for being useful in a variety of common skin conditions, such as dry skin, acne, eczema, psoriasis, scars and excessive oil production.
Hemp oil stimulates hair growth
If you want to grow your hair faster, hemp oil may be the answer. Rich in omega 3, 6 and 9, hemp oil is packed with the fatty acids needed to maximise hair growth.
Massaging the scalp with oils such as hemp also promotes blood circulation. This is because your body uses your blood to supply oxygen as well as nutrients to your scalp, which can thus improve hair growth.
Scalp massage with oils such as hemp also promotes blood circulation.
Increasing blood flow to your scalp is easy. Gently massage some hemp seed oil into your scalp at night for a few minutes. Not only is it relaxing, but the oil will invigorate your scalp and promote hair growth.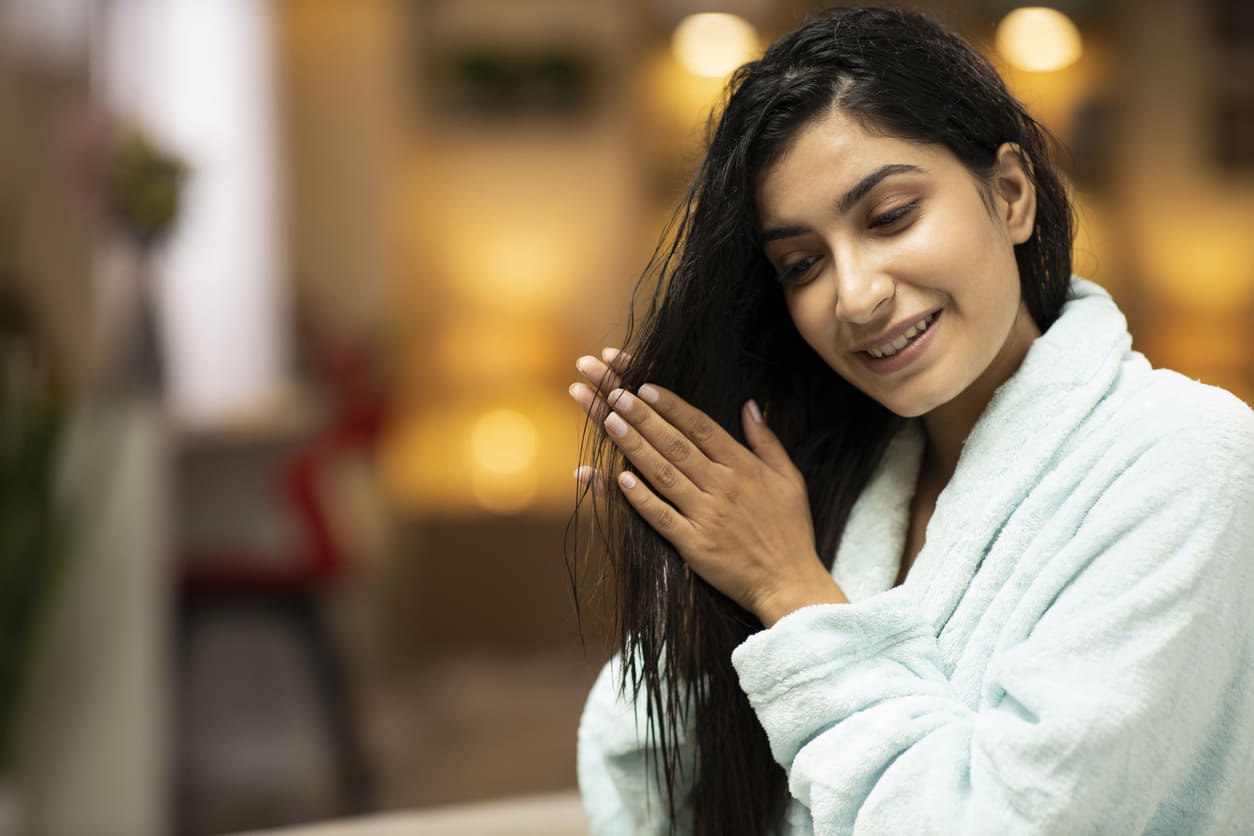 Hemp is incredibly hydrating
Dry hair feels soft and limp. If you notice that your hair is a bit pasty with a dull, dull finish, your hair definitely needs more moisture.
This can be a problem if you wash your hair too often, which strips the natural oils from the hair. Another cause of dry hair is low humidity in the air (think cool, dry winters) or excessive use of hair products containing drying ingredients like alcohol.
This can be a problem if you wash your hair too often, which strips the hair's natural oils.
Don't worry. In just a few weeks, hemp seed oil can get your hair back in good shape. Hemp seed oil is exactly what dry hair needs to get back to looking healthy and shiny. Infusing your hair with hemp seed oil can prevent water loss, making your strands simply beautiful.
How to use hemp seed oil on your hair
Like more common hair oils such as coconut, argan or castor oil, there are different ways to use hemp seed oil on your hair, depending on your hair type and personal needs. Here are some suggestions to get you started:
In your regular conditioner
One of the easiest ways to incorporate oils into your hair care regime is to add them to the products you already use. Simply mix a few drops of hemp oil with your usual conditioner to give your hair an extra dose of moisture.
As a leave-in
If your hair is dry, thick or curly, applying oil to towel-dried lengths and ends after washing will help add moisture and tame frizz.
As a hot oil treatment
Dilute a few drops of oil in a bowl of warm water and apply the mixture to wet hair. Let it work its magic for half an hour, rinse thoroughly and shampoo to suit your routine.
Please note that the oil is not used in any way.
Pro tip: To help the oil penetrate deeper into the hair, try wrapping your hair in a warm towel during the treatment.
As a scalp treatment
Do you suffer from a dry or itchy scalp? Massage a few drops of oil onto your scalp and leave it on overnight. When you wash your hair the next morning, your scalp will be moisturised and soothed, but it won't look greasy.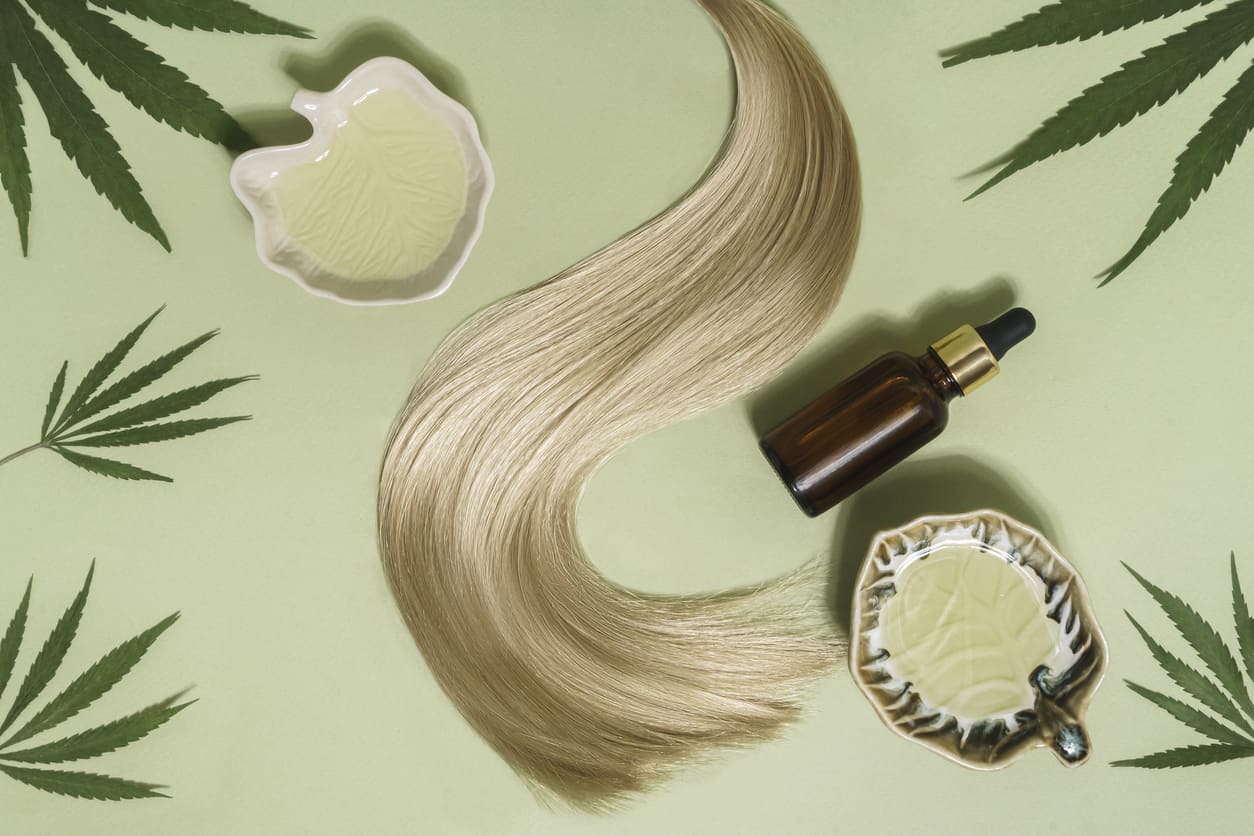 Hemp oil calms scalp irritation
Healthy hair starts with a healthy scalp. If you have an itchy, tight or dry scalp, you may have sensitive skin. Conventional shampoos are also loaded with detergents and sulfates that can further irritate your scalp.
Hemp seed oil can turn things around with its high vitamin E and antioxidant content. It is rich in phytosterols, a type of antioxidant that can soothe and repair aggravated skin. The next time your scalp is flaky and red, massage in some hemp oil for almost instant relief.
Hemp oil strengthens hair
Hair breakage is a major problem for hair types that are too dry, coloured or rough. Split ends and frizz caused by broken strands of hair are unpleasant to say the least.
Hair breakage is a major problem for overly dry, coloured or rough hair types.
The natural lipids present in hemp seed oil strengthen your strands, leaving you with stronger, healthier hair. Weak hair tends to be porous. This oil can saturate your hair and fill in those weak spots with healthy, strengthening nutrients like linoleic and lipid-rich fatty acids.
What is the difference between hemp oil and CBD?
Both CBD oil and hemp seed oil come from the cannabis plant but are very different in their uses and benefits. Hemp seed oil is produced by cold pressing the seeds of the plant, while CBD oil is made from the entire plant, including the flowers and leaves. CBD is traditionally used for wellness and medicinal purposes, while hemp oil is more associated with topical beauty and skin care remedies.
Hemp seed oil does not contain cannabinoids such as THC, which is the chemical responsible for the psychoactive effects (i.e. the "high") associated with cannabis.